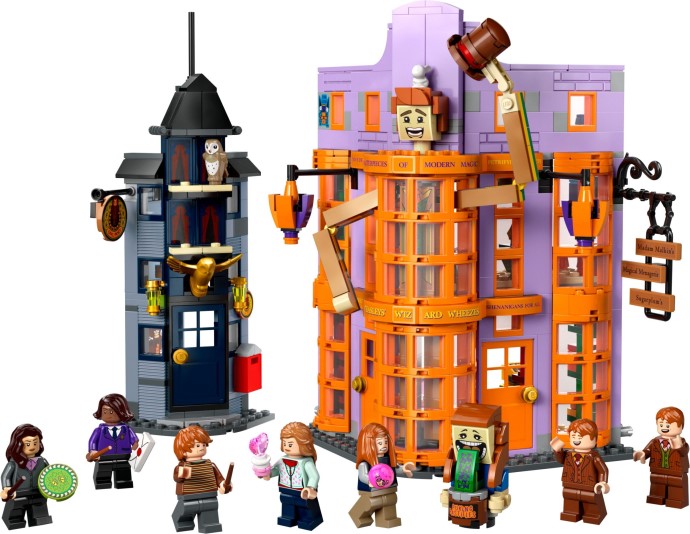 LEGO's Magical Adventure: Diagon Alley: Weasleys' Wizard Wheezes
Bring the whimsical world of Harry Potter to life with LEGO's enchanting 76422 set, featuring the colorful and quirky Weasleys' Wizard Wheezes™ joke shop located in the renowned Diagon Alley™. This captivating toyset, designed by Joel Baker, is brimming with magical antics to keep enthusiasts and budding wizards engrossed for hours!
Sprinkle of Wizardry with Every Brick
The charm of this delightful playset lies in its exquisite attention to detail. The exterior is as charismatic as its infamous siblings, Fred and George Weasley's mischievously whimsical store in the Harry Potter series. With an exciting two-level interior that's bursting with enchanting accessory pieces such as Puking Pastilles and Fainting Fancies, it embeds a labyrinth of magical theatrics in an intricate 834-piece buildable set.
Charismatic Inclusions for Boundless Imagination
Elevate the playtime fun with a grand party of seven fascinating LEGO minifigures included in the set. Fans will be thrilled to find Ginny Weasley™, Ron Weasley™, Fred and George Weasley along with other fantastic characters from the vivid world of Harry Potter. Naturally, the Owl Post worker and an owl figure make a special appearance too! Additionally, you can reenact memorable scenes with exciting elements like the Pygmy Puff and Fanged Frisbee.
Magic Beyond the Shop Walls
The magic unfolds beyond just the joke shop. The toyset also includes a brick-built representation of Owl Post featuring a delightful mail-drop function for inter-wizardry communications, amplifying the scope for imaginative narratives!
An Intuitive Building Journey
Not just a building block set, the interactive LEGO Builder app takes young wizards on an immersive building journey where they can see their creation come alive in 3D! This splendid feature facilitates zoom-in views, progress tracking, and saving models – all while having a blast building their very own version of Diagon Alley™.
A Magical Gift That Keeps on Giving
Whether it's a birthday treat or a special surprise for a Harry Potter fan, this 834-piece LEGO® building toy makes for the perfect gift! Its enchanting charm extends beyond its colorful façade when connected to the engaging world of LEGO® Harry Potter™ toys. The magical adventures are only limited by your imagination!
Experience LEGO's premium quality fun as it adheres to stringent safety standards while maintaining compatibility and secure connections among all its components. It stands testament to LEGO's exemplary commitment towards crafting safe yet enthralling play experiences!