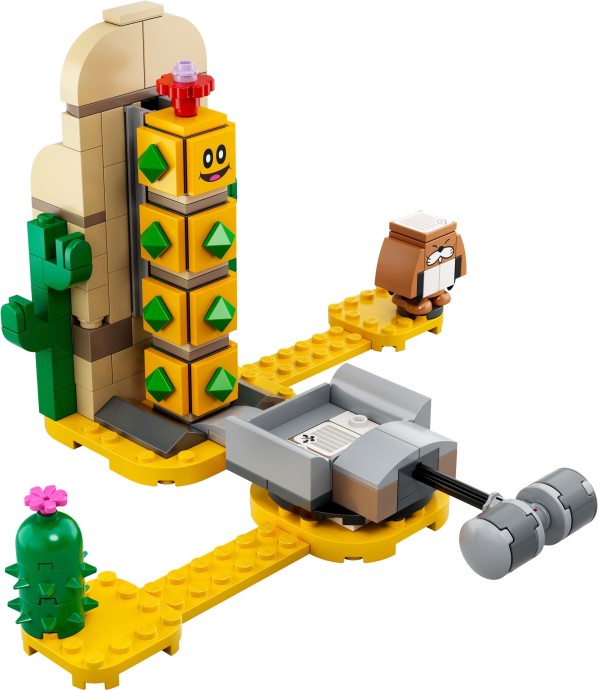 Experience Unforgettable Adventures with LEGO® Desert Pokey
Travel to a uniquely imaginative world brought alive by your favourite video game character with the mind-blowing LEGO® Super Mario™ Desert Pokey set (71363). Released in 2020, the set provides an engaging, real-life action-packed journey for all passionate fans of Super Mario. This delightful LEGO® creation is an Expansion Set under the expansive Super Mario theme. Created with precision and creativity by Leon Pijnenburg, its enticing design is bound to leave you hooked.
Unleashing Imagination Through Design & Challenge
The Desert Pokey set comes equipped with 180 pieces that kids above the age of six can seamlessly assemble into a magnificently stimulating desert scene. The optimal size setting of 26.2 x 14.1 x 6.1 cm also contributes to a wholesome and unending building experience, making every invested minute worthwhile.
This stellar playset presents an exciting and competitive element that children can use to enhance their LEGO® Super Mario™ Adventures with Mario Starter Course. With it, they can compete with friends in a classic, nail-biting face-off in a test of wit, speed and creativity.
Interactivity At Its Best
The captivating magic in the Desert Pokey set lays in the action-filled quest where LEGO Mario seeks to defeat his cactus-like enemy, Pokey by knocking it down section after section, using a hammer turntable. Kids are even challenged to strike Monty Mole figure in their pursuit to collect virtual coins! Thrilling music that accompanies every movement made on the hammer turntable sizzlingly enhances this epic voyage.
The Power of Integration & Customization
A significant feature beheld by this high-powered LEGO set is its capacity to effortlessly incorporate other Expansion Sets and Power-up Packs from the LEGO Super Mario toy playsets or even the Starter Course itself. Kids can now achieve limitless possibilities in designing their unique play areas!
Digital Fun – The Cherry On Top!
Accentuating the overall gaming experience is a complimentary LEGO Super Mario app that offers building instructions whilst simultaneously infusing creativity into kids through interactive measures like zooming, rotating viewing tools and sharing platforms for creation display.
Quality Assurance
Your child's safety remains paramount as this exemplary set meets all global safety and quality standards. The bricks are manufactured adhering to top-notch industry rules ensuring consistency and compatibility since 1958.
A Rewarding Experience Worth Every Penny
Priced at an affordable £17.99 / $19.99 / 19.99€ the Desert Pokey set offers exceptional value for money spent given its interactive features, high-quality components and fascinating design that guarantees hours of mesmerizing adventure.
In closing, own this extraordinary piece before its retirement date on 31 Dec 2021 and immerse yourself into a riveting journey envisaged only by the best named-mario games so far!