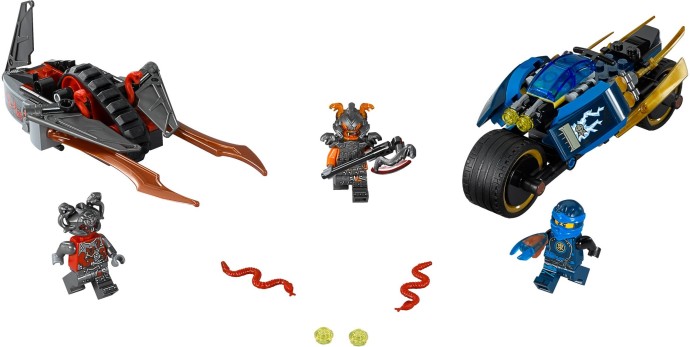 Embark on a Thrilling Adventure with the Ninjago Desert Lightning Set
Go on an unforgettable escapade full of adrenaline and action with LEGO's Ninjago themed "Desert Lightning" set, released in 2017. This amazing set brings to life the exhilarating world of Ninjago's 'The Hands of Time' subtheme, appealing to young fans with a fascination for mystical quests and legendary ninjas. LEGO set 70622, also known as Desert Lightning, was launched on 01 Jan 2017 and remained available until the end of that year.
An Affordable Gateway to Ninjago
The LEGO Desert Lightning set is a mid-range offering, priced at £14.99 / $19.99 / 19.99€ upon its release. With 201 pieces, it brings the price per piece down to a reasonable 7.5p / 9.9c / 9.9c, making it an affordable way to immerse oneself into the captivating universe of Ninjago. Aimed at children aged 7 – 14 years, this fun and intriguing Lego set scales your child's motor skills and unleashes their creative potential.
Ninjago Figures and Builds
This smashing set features three distinctive minifigures – Jay, Commander Blunck and Tannin – each equipped with unique accessories that add an extra layer of excitement to playtime narratives. Savour the thrill of staging epic battles as Jay seeks to repossess the Slow-Mo Time Blade from Commander Blunck's Vermillion Racer.
The Desert Lightning bike is one remarkable vehicle that showcases outstanding detail such as large wheels, stud-shooting translucent headlight-style elements, foldout lightning bolt booster elements and golden-colored ninja blades for high-speed pursuits across the desert terrain or even dramatic last-minute escapes!
Commander Blunck's Vermillion Racer on the other hand, designed with an intimidating aesthetic featuring a minifigure seat and tracks provides its own sense of apocalyptic doom and urgency in the race against time.
Awe-Inspiring Accessories
The translucent-blue Slow-Mo Time Blade adds a magical touch to the enthralling storyline while Commander Blunck's Vermillion axe poses a formidable threat that demands skillful ninja maneuvers from Jay. Further adding to the dramatic play are two red snake elements and intricately designed Vermillion helmets for Commander Blunck and Tannin.
Relive Ninjago Chronicles
Dive deeper into the captivating world of The Hands of Time and enact thrilling scenes from the much-acclaimed NINJAGO® Masters of Spinjitzu TV show. This toy allows kids to recreate the perilous adventures or even craft their unique stories with multifaceted characters getting embroiled in high-stakes battles against the forces of evil with their mastery over Spinjitzu. Toys like these offer more than just entertainment; they stimulate creativity, problem-solving skills, and narrative development amongst young minds.