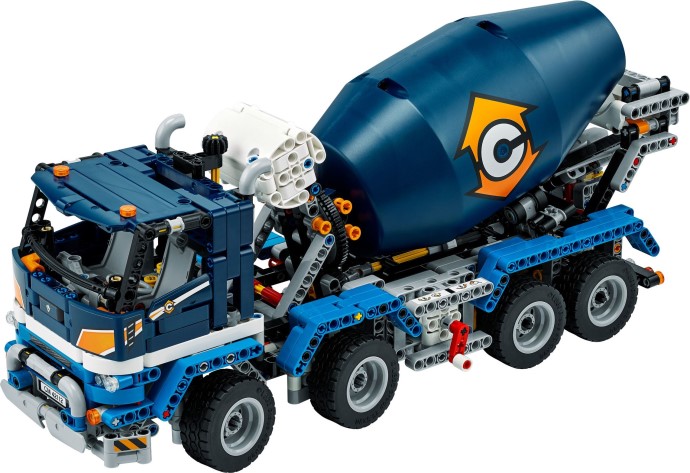 Immerse in the World of Construction with the LEGO® Technic™ Concrete Mixer Truck (42112)
Every child fascinated by the dynamics of a construction site will find joy and fulfillment in assembling and playing with the LEGO® Technic™ Concrete Mixer Truck (42112). Released in August 2020, this unique, intricately designed set offers both an educational challenge and endless hours of fun for children aged 10 years and above.
A Behemoth of the Building Site
Modelled to mirror a real-life construction vehicle, this striking set boasts eight sturdy wheels, a mobile motor, an accessible driver's cab, and an enormous mixing drum. This isn't just any standard toy truck; it provides lifelike complexity that young minds can explore and appreciate. The manually or automatically turning drum further enhances its authenticity. When rotated counterclockwise, children will be delighted to see the simulated concrete unload—much like the machinery found buzzing on a busy building site.
The Building Challenge
Composed of 1163 precise pieces, assembling this engaging edifice presents an enriching challenge for every architectural heart. But that's not all; the truck houses 100 1×1 LEGO bricks which imitates concrete. The kids can twirl these bricks inside the blender and use the handle to guide the funnel, pouring the virtual cement as they deem fit—a wonderful simulation of work at a construction site!
Size and Scope
The concrete mixer truck replica measures over 16" (42cm) in length, stands 7" (19cm) tall and spreads 4" (12cm) wide, offering a perfect size for creative play without cluttering your space. Despite housing countless intricate features, the set weighs only around 2.08Kg—lightweight enough to be easily handled by young builders.
A Treasure Trove for Tech-Heads
For fans eager for an innovative challenge beyond regular LEGO building sets, LEGO® Technic™ presents an exciting array. These sets not only look strikingly similar to their real-world counterparts but also imitate their movements accurately—making them hands-down attractions for kids. This concrete mixer truck is no exception—it's guaranteed to turn heads with its lively functionality!
Safety Always Comes First
All LEGO® Technic™ toy sets meet top industry standards ensuring each component connects effortlessly and safely every time. Undergoing rigorous testing for safety and quality globally, these sets promise nothing less than superior performance, guaranteeing utmost safety as well as satisfaction for our young builders.
Whether it's a gift for a special occasion or a reward for your young achiever's feat—the LEGO® Technic™ Concrete Mixer Truck (42112), with its enchanting engineering wonders and exciting features, is certain to ignite creative prowess and keep any industrious young mind engaged!