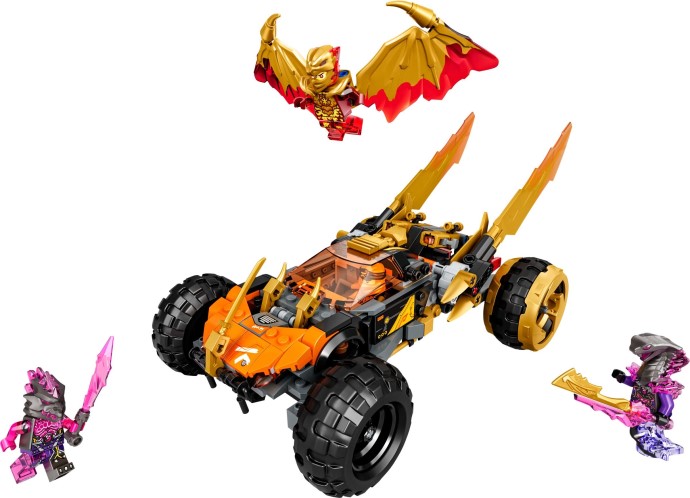 Experience the Thrill with Cole's Dragon Cruiser
Released under the Ninjago banner, the LEGO® subtheme "Crystalized" brings an exhilarating new addition – Cole's Dragon Cruiser (Set Number 71769). An embodiment of dramatic action and captivating drama, this set debuted to the world on 1st June 2022.
Adventure Awaits with this Feature-packed Toy
An intricate assemblage of 384 individual pieces, this phenomenal set returns a great value for its price. A synthesis of intricate design and delightful play experience, the Dragon Cruiser showcases the grandeur of LEGO's decades-long tradition of consistent quality toy production.
The dynamic vehicle has two seating arrangements for the thrill-seeking driver and an audacious passenger. Decked out with golden lightning blades out front, that swing into dragon attack mode when pushed forward, it gives an ostentatious edge to your adventure games. To further spice up the action, two stud shooters are incorporated into the design for awe-inspiring battle scenarios.
Discover your Very Own Ninja Crew
The set is populated by four exceptional minifigures: Golden Dragon Kai sporting elemental weaponry and adorned with iconic golden dragon wings, Golden Cole in full ninja attire, serpentine General Aspheera menacingly wielding a crystal weapon, and a combative Vengestone Brute equipped with a sword. An immersive toy experience is guaranteed with these incredible characters at your disposal to reproduce animated battles from the NINJAGO: Crystallized TV series.
Extend Your Play Experience
This enthralling Crystalized playset serves as not only an independent centre for your imaginative plays but also an augmentation to other sets from LEGO NINJAGO realm. You can incorporate it into thrilling narratives that include various mechs, cars, dragons and temples found in subsequent sets from the series like Zane's Golden Dragon Jet (71770), The Crystal King (71772) and Nya's Samurai X MECH (71775).
A Gift Worth Cherishing
Purchasable at an attractive price point of £39.99 / $44.99 / 44.99€, Cole's Dragon Cruiser stands out as a remarkable gift choice for kids aged 8 years and above, especially those with a penchant for action-packed ninja adventures and fun construction challenges.
A Marvel to Behold
Beyond its practical functionality as a toy, this LEGO® NINJAGO® set also exudes aesthetic prestige on display. With dimensions measuring at 38.2 x 26.2 x 5.7 cm (15 x 10.3 x 2.2 in), it can elegantly adorn your child's room while waiting for the next exciting play round.
A Pathway to Creative Exploration
Extending beyond screen-based entertainment facets, LEGO toys stimulate imaginative thinking and hands-on creativity amongst young builders. Trusted globally for their adherence to rigorous safety norms over six decades, LEGO building bricks have been meticulously engineered to ensure consistent assembly and dismantling year after year.
Move over traditional presents! Cole's Dragon Cruiser is here to captivate hearts, stimulate minds and create unforgettable experiences for every young ninja in training!