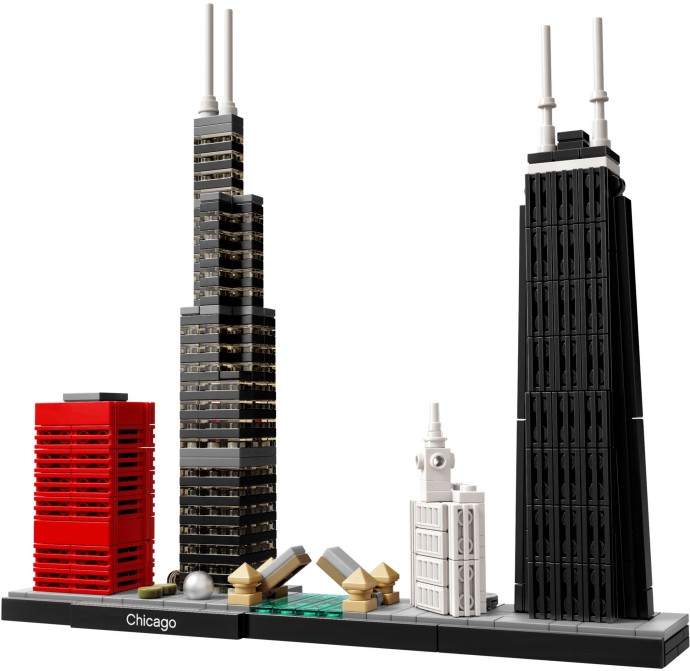 The Magic of the Windy City – LEGO Set 'Chicago'
Unquestionably the Heart of America, Chicago boasts a vibrant blend of history and modernity encapsulated in its memorable skyline. Enter LEGO set 21033, aptly named 'Chicago' – a celebration of this iconic urban vista in the form of immersive brick artistry. Being a part of LEGO's esteemed Architecture collection, released back in 2017, it adds a touch of thrill to your build experience with intricate architectural details that beguile the senses.
Reviving Chicago's Architectural Diversity Through LEGO
The magic lies in how this LEGO set dances between eras to craft a microcosm of the city's architectural diversity. It incorporates structures like the towering Willis Tower and John Hancock Centre that symbolize Chicago's skyscraper heritage, along with contemporary marvels like the Cloud Gate (fondly known as The Bean by locals) evidencing the city's enduring creativity. The endearing DuSable Bridge and Wrigley Building add yet another layer of historical richness to this miniature metropolis. Rising alongside them, you'll find the uniquely red CNA Center, which Chicagoans have affectionately named 'Big Red'. A chic decorative nameplate bedecked with 'Chicago' ties these disparate elements together within an ensemble that feels breathtakingly real.
Crafted Say for Lovers of Design, History, and Travels
This architecture-themed version from LEGO is not just any construction toy. It truly stands out acutely for detail-oriented people passionate about design, history, architecture or simply travel. It cleverly plays around with scale to provide an accurate visual interpretation of each structure's size in comparison to each other – a challenge designer Rok Zgalin Kobe certainly rose up to meet!
A LEGO Set Worth Displaying
Upon assembly, the model measures over 7" high, 8" wide and is slender with only a 1" depth – making it an ideal piece for display on a mantelpiece or professional office desk. Its distinctive design aesthetics combined with a compact size lend it an element of tactful elegance – so much so that it inspires both admiration for its representation and curiosity about the story it tells.
Final Thoughts
Complete with a sleek informative booklet detailing the design and history attached to every building it portrays, set 21033 gives you much more than just toy bricks. Released on January 1st 2017 and retired on December 31st 2018, this sets offers you a slice of Chicago regardless whether you're a seasoned builder or amateur enthusiast. With its historical narration and technical prowess disguised as child's play, 'Chicago' is indeed an epitome of LEGO® Architecture's brilliance.
Product Specs
Product Specs
Product Name:
Chicago
Pieces
444
RRP
£44.99 / $39.99 / 39.99€
Release Year
2017
Theme
Architecture
Instructions
Lego Chicago Instructions