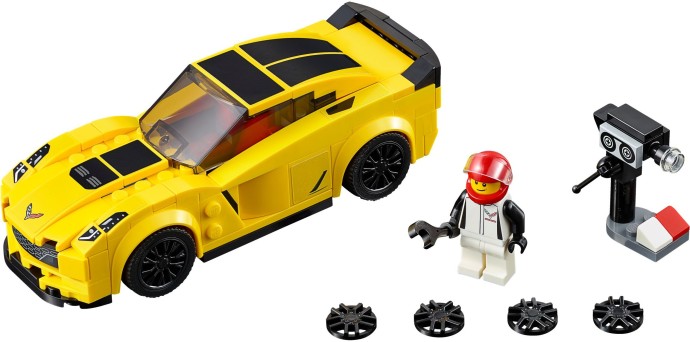 Experience High-Speed Thrills with the LEGO® Chevrolet Corvette Z06 – Set 75870
The LEGO® Speed Champions family proudly introduces its stunning tribute to a genuine American automotive masterwork: the Chevrolet Corvette Z06. Set number 75870 hails from the popular Chevrolet subtheme of Speed Champions, and it quickly carved out its spot in the prestigious line-up with its launch in March 2016, remaining available until the end of 2017.
Packed with Excitement and Detail
This exquisite LEGO® interpretation accurately captures the undomesticated spirit of the iconic performance vehicle. Priced at £12.99/$14.99/14.99€ for a pack of 173 pieces, it perfectly manages to combine affordability and complexity. Not only does this set make an excellent addition to your collection, but it's also an imaginative play outlet for kids aged between seven and fourteen.
Popping the Hood
Undeniably, one of the most fascinating aspects of this set is its attention to detail, encapsulating authentic Chevrolet Corvette features. Parents beware – its incredibly detailed build might cause your little ones to catch the incurable brick-building bug!
Fit for an ambitious minifigure-cum-racer, the Chevrolet Corvette Z06 comes with a removable windshield for easy maneuverability. Plus, two sets of changeable wheel trims allow your tiny racer to customise their ride to match their racing style.
Adding to its list of details is authentic Chevy logo and car headlight stickers, enriching the visual appeal of this glorious road beast. Think that's all? The set even includes a wrench tool and a wearable racing helmet for your mini racing driver!
Fast-Paced Action
It's not all about looks though; this intimidating machine exhibits serious attitude when it comes to racing on brick-built tracks. Its dimensions, standing at 19.1 x 14.1 x 6.1 cm (or 7.5 x 5.6 x 2.4 inches), give it a dominating presence against competitors.
The LEGO® Chevrolet Corvette Z06 exhibits unparalleled strength on race day, urging you to pair it up against another American legend – The Ford Mustang GT from set number 75871 for an epic desert racing duel!
Last Lap
Dotted with unmissable accessory elements like a TV camera for close coverage of the hair-raising races and a devoted Chevy driver minifigure ready to take on any challenge; this set promises an adrenaline-packed experience that extends far beyond just building!
In conclusion, whether you're a fan of motor races or a LEGO® enthusiast who appreciates iconic automobiles' precision-builds, there's no doubt that this set will throttle full speed into your heart!