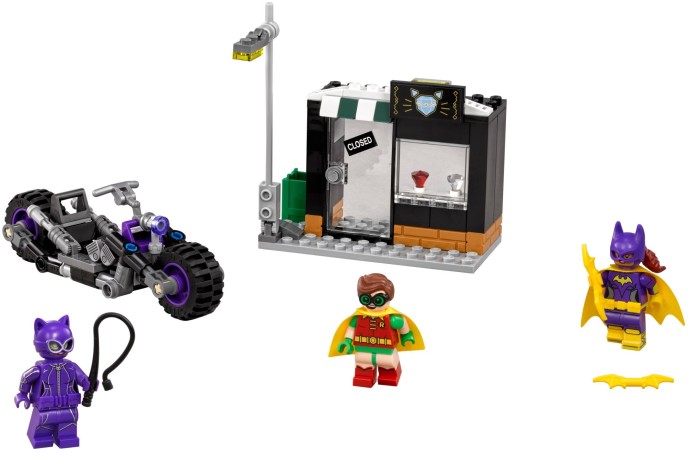 The LEGO Batman Movie
Theme
Step Into the Action with "Catwoman Catcycle Chase" Set
Immerse yourself into the enthralling universe of The LEGO Batman Movie with the captivating Catwoman Catcycle Chase set (set number 70902). This vibrant LEGO set, specially crafted for kids aged between 7 and 14, was launched on the 1st of January, 2017.
Timeless Adventure in a Compact Package
This set intricately narrates a high-adrenaline jewelry heist by none other than the cunning Catwoman herself. Indulge in the thrilling pursuit as Batgirl and her trusty sidekick Robin rush to thwart the plot. This jewel-heist narrative is cleverly portrayed through the inclusion of multiple miniatures making it more exciting.
Brilliant Details Galore
Comprising 139 distinct pieces, this set brings together a bevvy of immersive elements such as a precious-gem studded jewelry store designed with translucent glass-like features. Moreover, the package also presents you with Catwoman's captivating Catcycle, sporting an elegant design complete with not only a dedicated mini-figure seat and rubber tires but also engine elements and a printed dashboard for a realistic experience.
Mesmerizing Minifigures
The jeopardy unfolds as Batgirl and Robin spring into action. These intricate minifigure characters, equipped with their signature capes, make for engaging play protagonists. Their nemesis – Catwoman – completes this three-minifigure ensemble with an aesthetic opalescence matching her jewel thief profile
Interactive Set Components
Batgirl's arsenal includes two striking yellow Batarangs while Catwoman effortlessly counterattacks with her distinctive whip as she attempts to take down the lamppost during her hasty escape. The interaction doesn't stop there! The miniature street scene extends its dynamic function beyond aesthetic appeal – you can knock over the lamppost with the Catcycle or even open the door to the jewelry store.
A Worthy Investment
Originally retailing at £19.99/$19.99/24.99€, this preciously packed adventure offered absolute value for money, breaking down to just 14.4p/14.4c/18.0c per piece! Not to mention it makes for a nostalgia-inducing collector's item post-retirement on December 31, 2017!
To sum up, whether you're a seasoned LEGO enthusiast or a Batman fan looking for a unique souvenir, "Catwoman Catcycle Chase" offers an authentic adventurous experience subtly captured amidst its multicolored blocks.