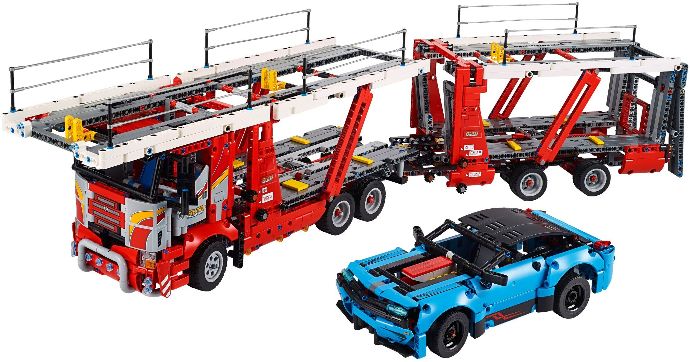 A Deep Dive into the LEGO Technic Car Transporter
The LEGO Technic 42098 Car Transporter is a marvel in the realm of brick-based construction, offering an immersive and learning-enriched experience to budding engineers and LEGO enthusiasts. Released in 2019, this set stood as a centerpiece in the esteemed Technic line-up until it retired at the end of 2020, a timeframe that allowed it to capture hearts and kindle creativity worldwide.
An Assembly Experience Like No Other
Boasting a generous count of 2493 pieces, the set offers numerous hours of pure building enchantment. Placing each brick is akin to piecing together an intricate puzzle. The journey culminates into an elaborate model transporter resounding with rich realism and abundant interactive elements. And with a price per piece between 5.6p and 7.2c, you know you're getting a value-packed deal.
Vivid Visuals and Splendid Schematics
The aesthetic appeal of this set cannot be overstated. Dressed in a classic color palette of red, gray, and black- it's an appealing vision of mechanical aesthetics. To further elevate this dynamic look, LEGO has thoughtfully included a sticker sheet – letting builders add their personal touch with additional detailing.
Fabulous Functionality
But this set is not just about looking good – it's about doing more! A roster of practical features makes it irresistibly hands-on. Builders can exercise their control over lowering or raising the car decks – creating seamless navigational passages to its two levels. The lock feature ensures your mini vehicles stay put during transit – conveying the thrill of real-life auto transportation. And let's not forget the tiltable driver's cab- once lifted, unfurls an exquisite model of a V6 engine complete with moving pistons.
A Complementary Roadster to Ramp Up The Fun
Also accompanying this LEGO marvel is a sleek blue car model fitted with functional steering and a V8 piston engine. And although formidable in its standalone presence, this car takes on another layer of relevance when combined with 42098 Car Transporter set, upping the ante for extended play adventures.
The Dual Delight: Rebuild to Reimagine
LEGO Technic 42098 Car Transporter constitutes substantial replay value encapsulated by its 2-in-1 model proposition. Master builders or curious learners can take their assembling acumen for another spin, recreating the Car Transporter into a fascinating Truck and Show Cars model – thereby offering double delight from one single set!
An Accomplishment Worth Displaying
For all its educational bent, honing builds' engineering basics – this set finally turns out to be something you'd love to display proudly. With its impressive dimensions measuring over 8″ high and 33″ long for transporter and around 3″ high, 10″ long for the car – this build demands attention as much as it yields prolonged fun!
In conclusion, whether you are an experienced builder looking for your next big challenge or if you are gravitating towards LEGO for the first time, Car Transporter from Technic exists as a brilliant testament to LEGO's commitment towards merging play with learning – engaging users young and old in ways only LEGO can!