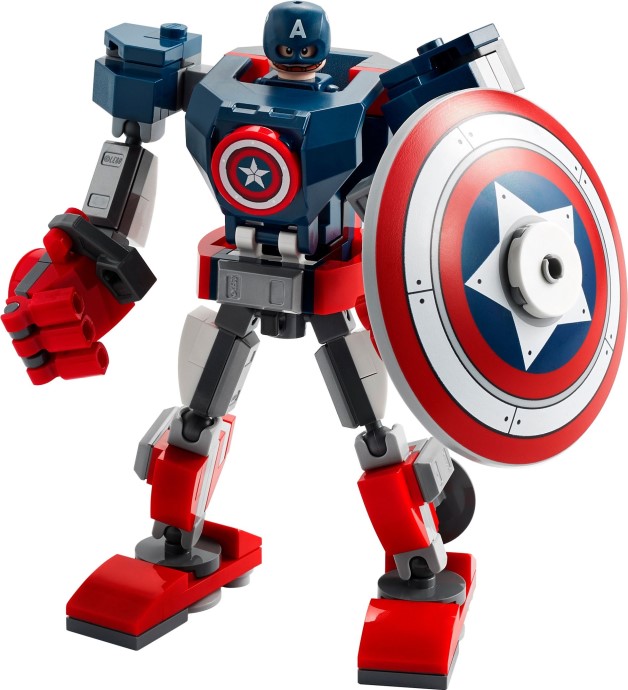 Unleashing Superhero Dreams With LEGO Captain America Mech Armor
Every child has dreamt of saving the world at least once. Imagine making those dreams come true with tangible action and real-life superheroes within their reach. The LEGO® Marvel Super Heroes set, the Captain America Mech Armor, does just that. This dynamic set combines the fascination of Marvel's iconic superheroes with the creativity and engineering precision unique to LEGO's building blocks.
Detailed Specifications: A Closer Look
Released on 01 Jan 2021, this captivating LEGO superhero set came into the market under the expert craftsmanship of designer Junya Suzuki. Currently priced at £8.99/ $9.99/ 9.99€, it offers a value of 7.4p/ 8.3c/ 8.3c per piece.
The Captain America Mech Armor set consists of a total of 121 pieces, including one cool Captain America minifigure. The completed Mech Armor stands at an impressive 14.1 x 15.7 x 4.5 cm or approximately 5.6 x 6.2 x 1.8 inches.
Transcending Ordinary Playtime
Endowed with movable arms and legs, the mech armor grants kids the freedom to enact their most cherished Avengers' scenes and create new adventures. Playing Captain America is no longer confined to video games or TV screens but brought alive in their own playrooms.
The genius behind this set lies in its attention to detail – a giant shield fitting tightly into the mech armor's powerful hands, a miniature version for the Captain America minifigure, and the ability to attach this tiny shield to the mech's leg – each feature contributing to greater play possibilities.
Potential for Extended Fun
If your young superhero thirsts for more adventure, additional Marvel mechs are available for collection, giving your child an endless treasure trove of fun scenarios and fantasy battlegrounds.
The Legendary LEGO Promise
Staying true to LEGO's quality assurance since 1958, every component in this set aligns perfectly with others in terms of consistency and compatibility, successfully passing stringent industry standards leading to global safety certifications.
A Gift Beyond Comparison
If you have been contemplating a memorable gift for any occasion or merely a surprise, look no further than the LEGO Marvel Avengers Captain America Mech Armor (76168). For any superhero enthusiast above seven years old, this is not just a gift; it unlocks an entire world where heroes are made.