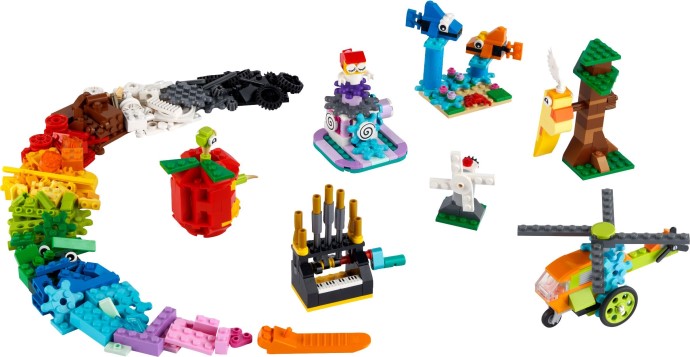 Introducing the Classic "Bricks and Functions" LEGO® Set
LEGO, the dynamic construction toy company loved by children and adults alike, has revealed its newest addition in its Classic range – the 'Bricks and Functions' set (11019). With this vibrant collection of innovative building bricks, players aged 5 and up can bring playful creativity to life. Let's take a closer look at what makes this bespoke set so special.
A Look at the Essentials: What You Get with Set No. 11019
The Bricks and Functions set, officially launched on March 1, 2022, features a plethora of 500 diverse colorful LEGO pieces. Its pièce de résistance lies in its unique ability to allow builders to create miniature models with mobile components.
This set includes designs for seven delightful toys – each of them displaying an intriguing gear-driven functionality. Think of a gently twirling ballerina or an agile helicopter flaunting spinning rotors. If that doesn't get your creative juices flowing, a pack of extra bricks will surely inspire you to construct your exclusive LEGO inventions.
A Generation of Budding Inventors: The Learning Aspect
Kids love the thrill of building and interacting with functional models. But what's most commendable about LEGO's Bricks and Functions kit is it doesn't just promote joy-filled discoveries but also encourages learning in disguise.
No matter if your little one is taking their first steps into the world of construction or whether they're seasoned Lego architects – this set supports everyone. The step-by-step pictorial instructions make it easy for beginners to experience the gratification of creating their own playthings.
Beyond Just Fun: Real-Life Skills
By engaging with this LEGO set, children get an opportunity to hone valuable life skills amidst their playtime. Through open-ended play scenarios and thrilling building ideas, kids are pushed to think creatively—giving flight to their imaginations while enjoyably learning problem-solving abilities.
The Bricks and Function set isn't only about building models; it's also about constructing endless possibilities through innovation and exploration. And fun fact – it's not just for young builders. Experienced LEGO enthusiasts or collectors might find this set quite intriguing too!
An All-in-One Gift
This LEGO Classic playset with a modest £29.99 price tag makes a wonderful gift for any occasion. It's not just a box full of blocks but also a box full of opportunities filled with endless creativity and imaginative play, making it a perfect gift that stimulates both fun and learning simultaneously.
So whether you're planning to surprise your little builder on their birthday or just looking forward to adding more variety to your shared after-school building sessions – the Bricks and Functions (11019) LEGO® Classic set surely deserves your attention!