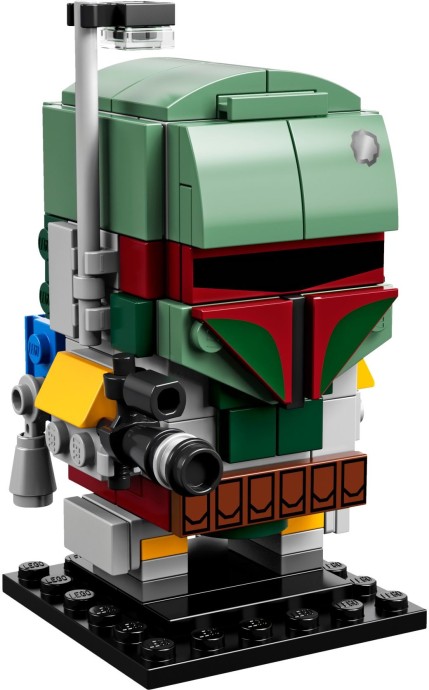 Introducing Set 41629: Boba Fett BrickHeadz
LEGO continues to amaze its fans, this time with an amazing addition to their BrickHeadz lineup – the notorious and mysterious bounty hunter from the Star Wars saga, Boba Fett. Released in 2018, set number 41629 brings the fan-favorite character from the iconic Star Wars: Episode V The Empire Strikes Back movie as an endearing and intricate constructible figure.
A Detailed and Authentic Recreation of Boba Fett
Boasting 161 pieces, this LEGO BrickHeadz set stays true to all the finer details that make Boba Fett such a recognizable character. The green and red helmet complete with its antenna, along with his trusty blaster, are meticulously recreated using LEGO bricks. This set gears towards LEGO enthusiasts aged 10 and above, guaranteeing hours of building fun for all fans.
Remarkable Value at an Affordable Price
The Boba Fett BrickHeadz set comes at a recommended retail price of £9.99 / $9.99 / 9.99€, making it an ideal gift or collectible for any Star Wars fan. With a price per piece ratio of only 6.2p / 6.2c / 6.2c, collectors can appreciate both the quality and affordability of this remarkable recreation.
Showcase Your Love for Star Wars with this Collectible Figure
Beyond just being a buildable figure, the Boba Fett BrickHeadz also comes with its own distinctive collector's baseplate featuring the BrickHeadz logo. This ensures that displaying your newly-constructed bounty hunter on your shelf or workspace is both simple and attractive.
Build Your Galactic BrickHeadz Collection
Why stop at just Boba Fett? LEGO encourages fans to expand their BrickHeadz collection with other exciting characters from the entire Star Wars universe. From movies to TV series, games, and comics, the possibilities are practically endless – allowing you to dive into a galaxy far, far away with an ever-growing assortment of your favorite heroes and villains.
Dimensions for the Intrepid Bounty Hunter
Once completed, Boba Fett stands over 2" (7cm) tall without the baseplate, while the baseplate itself measures 1" (4cm) square. The minimalistic dimensions make this LEGO BrickHeadz figure perfect for any shelf or workspace.
In conclusion, LEGO set 41629 – Boba Fett BrickHeadz is a must-have for any die-hard Star Wars fan or LEGO enthusiast. This affordable and detailed collectible will certainly bring joy to anyone looking to expand their galactic LEGO empire.
Product Specs
Product Specs
Product Name:
Boba Fett
Pieces
161
RRP
£9.99 / $9.99 / 9.99€
Release Year
2018
Theme
BrickHeadz
Instructions
Lego Boba Fett Instructions