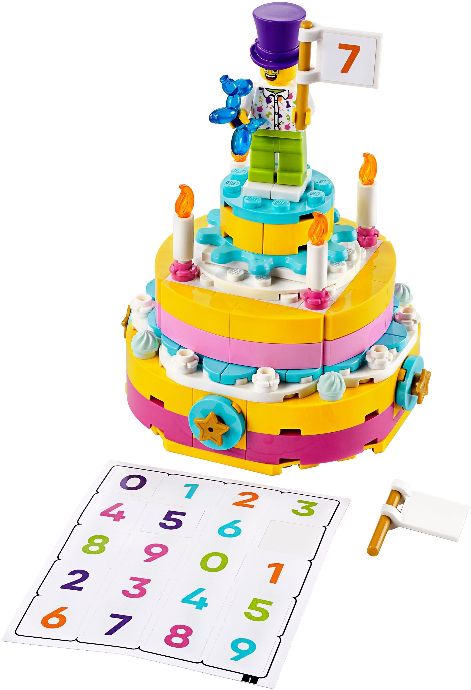 Introducing the LEGO Birthday Set
The LEGO Birthday Set, catalogue number 40382, is the perfect way to celebrate a special child's birthday and to make it truly memorable. Released in 2020, this LEGO creation joins the company's diverse Seasonal theme, focusing specifically on Birthdays. This set was designed by none other than LEGO veteran Mel Caddick.
A Delightful Way to Celebrate
What better way to say 'Happy Birthday' to a true LEGO enthusiast than with their very own themed construction set? The Birthday Set isn't just an assembly of bricks – it's an interactive birthday cake made purely out of LEGO! Laced with colorful decorations that include buildable candles and a charming balloon animal element, this set bursts at the seams with festivity. As icing on the cake, quite literally, a spinning top tier adds dynamic motion to this joyful creation!
Details Did Not Go Amiss
No detail goes unnoticed in this festive set, housing 141 intricately designed pieces meant for children aged seven and up. With these moderately challenging pieces, the assembly process itself can be an entertaining activity for the party! Another delightful feature includes a sticker sheet complete with two sets of numbers from 0-9. These can be stuck onto one of two buildable flags held by a kempt minifig donned in vibrant clothing and a top hat. This little character will surely draw smiles as it stands proudly atop the brick-built cake.
Pricing and Dimensions
This lovely set comes at an affordable Recommended Retail Price (RRP) of £11.99 / $12.99 / 12.99€. And at just about 9 cents per piece, value definitely matches quality. The completed structure measures approximately 14 cm long, 15.6 cm wide and an impressive height of 7 cm (that's roughly 5.5 x 6.1 x 2.8 inches for our friends across the pond). Despite its considerable size, it weighs merely about 180 grams (0.39 lb).
Tangible Memento
In conclusion, the LEGO Birthday Set serves not only as a fun activity on your child's special day but also as a memento they can hold onto long after the party is over. This beautifully designed construction set encapsulates the spirit of celebration perfectly, making it an unforgettable gift for any LEGO fan!