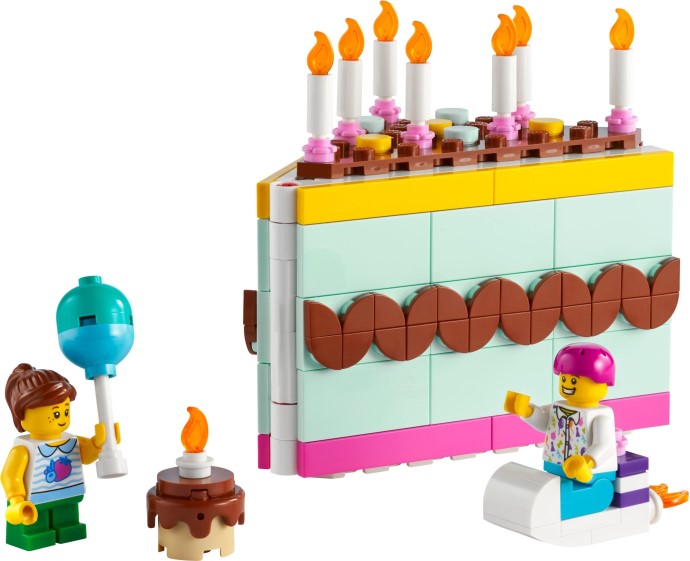 Brimming with Festivity With the Birthday Cake LEGO® Set
Imagine turning every birthday into an unforgettable celebration, overflowing with joy, memories, and a unique spark of LEGO® magic. We are talking about none other than the vibrant and fascinating LEGO® Birthday Cake set (40641), a one-of-a-kind birthday gift that any LEGO® enthusiast would thoroughly relish.
Building Memories Piece by Piece
Packed with 211 intricately designed LEGO® pieces, this charming Birthday Cake set effortlessly transforms into an exuberantly colourful cake slice. The truly ingenious aspect of this LEGO® creation is that it houses a quaint little room inside, perfectly created to host celebrations for two minifigures who call it home.
A Story Told Through Blocks
The design prompts intuitive thinking in children beyond seven years old. Once assembled, the cake can open up to reveal an endearing space where our little LEGO® friends dwell. But wait! That's not all! Unfolding the cake piece divulges an icing-coated hill, setting up an exciting slope for the minifigures' sled.
The Yearly Ritual of Celebration
This isn't just a toy; it's a creative tradition encapsulated in 19.1 x 14.1 x 6.1 cm dimensions. Every year on their special day, your child will have the delight of building and rebuilding their Birth Cake set in fun and fresh ways, adding their own personal touch to mark another year lived in joy and learning.
Of Candles and Whimsy: The Unrivalled Details
Conjuring up an authentic birthday feel are seven buildable candles that prettify this cake wedge! These petite details infuse realism into the play and invite kids to immerse themselves more and more into their imaginative world fueled by this LEGO® set.
Affordable Euphoria
At £13.49/$14.99/14.99€ or 6.4p/7.1c/7.1c per piece, relishing a perpetual celebration does not burn a hole in your pocket. Money can't buy happiness – but it certainly can get you this delightful slice of endless fun & frolic provided by the LEGO® Birthday Cake (40641) building set!
In Conclusion
LEGO® has consistently combined learning with fun, creativity with tactfulness, and childhood with memories galore! This time around, it has baked these components into one heartwarming Birthday Cake set- perfect for brightening up any event or festivity. Here's to many more birthday celebrations embellished with these colourful blocks!