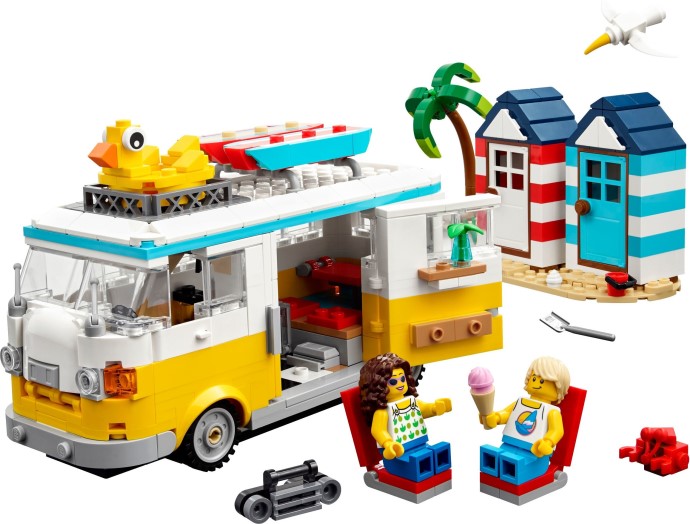 Experience The Summer Vibes With LEGO® Creator's Beach Camper Van
Experience the beauty of building and crafting with the LEGO® Creator 3in1 set, Beach Camper Van (31138). This fantastic and imaginative toy is a perfect gift for children aged 8 and above who can't wait to start their own beach adventure. Launched in March 2023, this set not only offers a highly detailed camper van model but it comes with a wide scope for creativity and reconstruction.
Craft Your Own Beach Scene
The Beach Camper Van set contains 556 beautifully crafted LEGO pieces, encouraging children to delve into an interactive building experience. The main star of this set is, undoubtedly, the camper van itself which houses a cosy little kitchen and bedroom. While taking a break from surfing, your mini characters can have a meal or rest in the comfort of their van. There's also a detachable roof for easy play access, an opening side door and movable wheels that add to the realistic detailing of the camper.
Dive into A World of Possibilities
But that's not all! What makes this LEGO Creator set stand out is its 3in1 feature allowing the owners to reconstruct the build into three different beach scenes. Apart from setting up a beach with an amazing camper van as the centrepiece accompanied by two cute beach huts and palm tree, kids can also rebuild it into an eye-catching summerhouse overlooking a picturesque water and sand scene or transform it into an inviting ice-cream shop complete with a serving window and second-floor terrace. Isn't that super exciting?
Detailed Accessories Add Extra Fun
The attention to detail doesn't stop at the main builds: this set includes a host of fun accessories to bring your beach scenes to life. Surf with two brick-built surfboards, relax on chaise lounges under the palm tree or drive around in a vibrant beach buggy. With this LEGO® Creator 3in1 Beach Camper Van (31138) set, there are endless possibilities for immersive play!
Enhance Your Building Experience
The LEGO Builder app adds another layer to your building experience: rotate your models in 3D, save your sets for future reference and track your playing progress. Thanks to decades of quality assurance testing by LEGO®, you can expect premium bricks that pull apart consistently every time, ensuring safe and smooth building sessions for young builders.
In conclusion, the new Beach Camper Van demonstrates how LEGO® continues to captivate young minds through creativity and innovation whilst invoking fond memories among older generations. Get ready to let your imagination roam along sandy beaches – be it inside a cosy camper van, inside a comfy summerhouse or standing outside a delightful ice-cream shop!