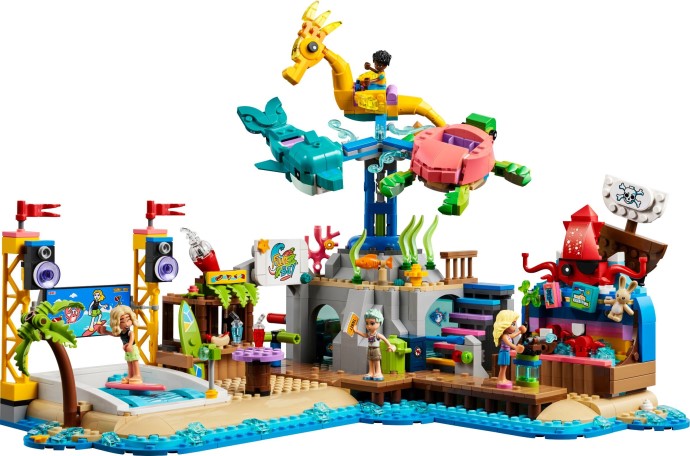 Get Ready to Dive into the LEGO® Friends Beach Adventure Park
Prepare for a ride of a lifetime with the recently launched LEGO® Friends Beach Adventure Park Set. This well-crafted set introduces thrill-seekers and creative minds to an exciting world of beach-themed fun and endless building possibilities!
Meet The LEGO® Friends Beach Adventure Park
Released in June 2023, this impeccable set, numbered 41737, is no ordinary beachside scenario. It's an advanced building set tailored for budding engineers and architects aged 12 and above. With its staggering count of 1348 pieces characterized by intricate details, constructors will find themselves engulfed in a rewarding challenge of assembling components such as moving carousels, surfers on wave machines, and interactive shooting galleries.
Mesmerizing Specifics
The LEGO® Friends Beach Adventure Park measures a substantial 48 x 37.8 x 9.4 cm, allowing children to immerse themselves in an expansive beach themed amusement park right on their play table! Worth every penny of its retail price £89.99 / $119.99 / 99.99€, the value of this dynamic set is truly unrivaled.
A Fount of Fun and Learning
Innovation and creativity shine through the LEGO® Friends Beach Adventure Park. It features LEGO Technic™ elements that add a wow-factor to this thrilling build, infusing realism with the excitement of movement. Its double rotation carousel, moving surfer on the wave machine, and the engaging shooting gallery game with targets that sway side-to-side are bound to leave your little ones spellbound!
Characters Come To Life
The Beach Adventure Park stars LEGO® Friends characters Zac, Nova, Dia, and Charli – complete with accompanying expressive alternative heads for Zac and Nova! These characters serve as catalysts to countless role-playing scenarios, allowing kids to weave captivating narratives around their constructions.
A Gift That Keeps On Giving
This standout product serves as an ideal gift for youngsters who enjoy flexing their imaginative muscles while sharpening their problem-solving capabilities. Whether you're considering birthday or holiday presents for children aged 12 and up or simply looking to keep them engaged on other occasions – look no further than this entertaining building set!
Innovative Building Process
Kids can also utilize the user-friendly LEGO Builder app that offers 3D model views for easier assembly guidance. This interactive feature not only helps them track their progress but also magnifies their experience by amplifying their building skills.
A Safe and Standard Compliant Set
The high-quality parts included in this set undergo rigorous testing processes to meet global safety standards — offering parents peace of mind and guaranteeing a consistent building experience. We have been trusted since 1958 – providing playsets that adhere to stringent industry specifications while ensuring compatibility.
In conclusion, the LEGO® Friends Beach Adventure Park combines exhilarating adventures with educational opportunities packaged in a beautifully designed beach setup that promises unforgettable experiences for young builders alike.