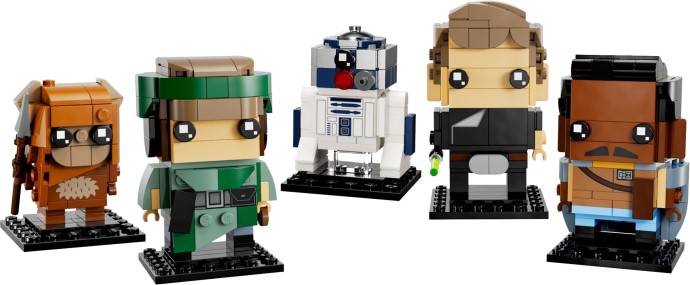 Discover the Epic Battle of Endor Heroes Set
Attention all Star Wars fans! Get ready to embark on a thrilling journey to a galaxy far, far away with the exciting LEGO® BrickHeadz™ Battle of Endor Heroes (40623) set. Inspired by the classic movie, Star Wars: Return of the Jedi, this incredible collector's edition is a fantastic way to relive the memorable moments and celebrate the 40th anniversary of this epic conclusion to the original Star Wars trilogy.
Experience BrickHeadz Magic Through 5 Iconic Characters
The Battle of Endor Heroes set includes buildable LEGO BrickHeadz figures of your favorite characters from Star Wars: Return of the Jedi. These figures include Luke Skywalker, R2-D2, Lando Calrissian, Wicket, and Princess Leia. Not only are these characters visually stunning in their unique atmospheres but also highly authentic to their outfits from the iconic movie.
Delve Into Authentic Details With Exclusive Accessories
The building kit offers an opportunity for fans aged 10 and up to immerse themselves in capturing the essence of each character. The set comes with exclusive accessories such as Luke's lightsaber for intense duels, Wicket's spear for skilled Ewok combat, and even Princess Leia's snack element that adds a touch of humor and authenticity. These accessories help create an immersive building experience that brings your favorite characters closer than ever before.
Create Your Own Timeless Star Wars Display
This 549-piece set offers endless possibilities for creating your very own Battle of Endor scene or displaying these heroic figures in the comfort of your own home. Each of the five figures included within this set comes with a baseplate designed especially for easy mounting and display purposes. Showcase your love for Star Wars by placing these incredible figures in pride of place within your collection, or share your enthusiasm with others by gifting this set to the passionate Star Wars aficionado in your life.
Exceptional Value: A Collector's Must-Have
At an attractive price point of £39.99 / $39.99 / 39.99€, the Battle of Endor Heroes set is an excellent investment for collectors and enthusiasts alike. With an impressive price per piece ratio of 7.3p / 7.3c / 7.3c, fans can revel in the joy of owning a premium-quality, commemorative building set that pays tribute to one of the most beloved chapters in the Star Wars saga.
Don't miss out on the interactive and exciting experience of creating your own memorable Battle of Endor Heroes collection with this amazing LEGO BrickHeadz™ set. The force is strong with this building kit, designed to inspire creativity and imagination while providing engaging entertainment for all who are young at heart.