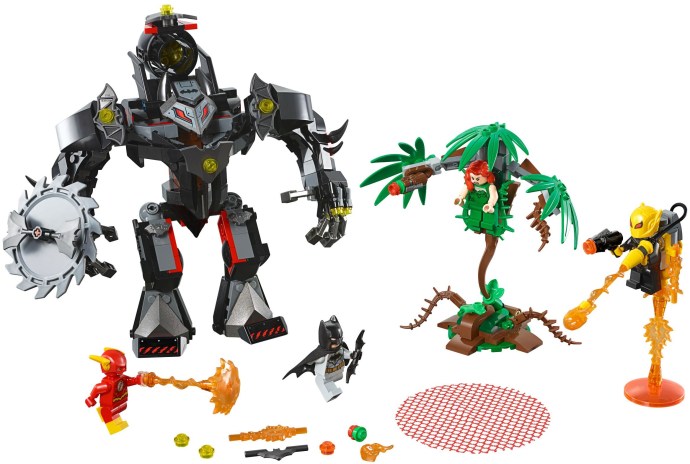 DC Comics Super Heroes
Theme
The 2019 Batman vs. Poison Ivy LEGO Set: A Review
Released under the globally admired DC Super Heroes label, the Batman Mech vs. Poison Ivy Mech LEGO set, designated as SET_NUMBER 76117, offers an enthralling blueprint for compelling fun-filled action play. Crafted by talented designer Junya Suzuki in 2019, this captivating set draws inspiration from the iconic narratives of the comic book world while incorporating modern engineering techniques.
First Impression of the Set
The 76117 set, aptly named Batman Mech vs. Poison Ivy Mech, features a versatile array of 375 pieces. Enthusiasts have often held high regard for the replay value this set offers, thanks to its ingeniously designed components that allow assembly and disassembly for countless hours of endless fun.
Gearing Up for Action With Batman and Friends
Unveiled on January 1st 2019, the star attraction of this ensemble is undoubtedly the adaptable and utilitarian Batman Mech. Having been assembled from assorted LEGO parts, the mech offers multifunctional capabilities that include a spinning saw blade and a net shooter – all essential equipment for Batman's daring rescue missions. This toy model delivers an experience enriched with authenticity thanks to details like an opening minifigure cockpit and adjustable limbs.
Meet The Poison Ivy Mech
The theme wouldn't be complete without a dastardly villain to contend with our hero. Enter the Poison Ivy Mech, an embodiment of menace with intriguing features such as its own minifigure cockpit, posable branch 'arms', and a gripping hand designed meticulously to ensnare minifigures. It comes packed with a unique collapse function which adds another dimension to interactive play.
The Minifigures
Included in SET 76117 are four notable LEGO minifigures; Batman himself, Firefly, The Flash, and Poison Ivy. Each detailed figure brings its own flair and personality to the mix. Fun fact: The figures of The Flash, Firefly, and Poison Ivy made their debut in this year's collection!
Worth Your Pennies?
If you're grappling with questions of value-for-money about this set, consider this: at £34.99 (or $39.99), one is effectively shelling out only around nine pennies per piece! A fair deal when you factor in the sheer entertainment value this set brings.
A Fine Addition to any Collection
In conclusion, Batman Mech vs. Poison Ivy Mech logistically spans across dimensions of 28.2 x 26.2 x 5.9 cm when unboxed. Weighing at just over half a kilogram (0.55 kg), it's easily portable for those vacation trips or sleepover nights where LEGO building is on the menu! Aimed at kids aged seven and above it's guaranteed to keep them creatively engaged through countless hours of inspired play or proudly displayed within an exquisite collection.