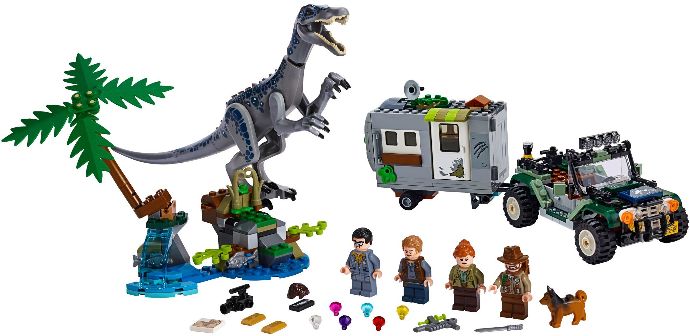 Unleash the Adventure with LEGO's 'Baryonyx Face-Off: The Treasure Hunt'
The high-octane world of Jurassic Park is revived in LEGO's action-packed and adventure-filled set – 'Baryonyx Face-Off: The Treasure Hunt' that was released in 2019, as part of the 'Legend of Isla Nublar' subtheme. The set keeps the flame of the iconic dinosaur thriller alive, giving Lego and dinophile enthusiasts an opportunity to navigate through jungle landscapes and experience thrilling moments akin to those in the original movies.
A Step into the Jungle with Detailed Design
A real visual treat, this set features an intricate offroader model perfectly designed for two minifigures. The wonderfully detailed trailer even includes a buildable rooftop antenna to keep communication going in the dense foliage. Further fascinate your imagination with a cleverly constructed jungle landscape integrated with a hidden treasure chest waiting to be discovered. With 434 well-crafted pieces, this set provides hours of constructive and creative play for young builders.
Not Your Everyday Minifigures
Accompany Owen Grady and Claire Dearing in their thrilling chase and outsmart baddies Danny Nedermeyer and Sinjin Prescott, both new as of June 2019. Let's not forget our furry friend, Red the dog who adds further intrigue. Each character carries unique accessories from Owen Grady's tranquilizer gun to Sinjin Prescott's hat and map, adding authenticity to each character.
The Mighty Baryonyx Reigns Supreme
The real showstopper is undeniably the molded Baryonyx dinosaur figure. Standing 4" high and an impressive 11" long, snapping jaws, posable legs, arms and head dramatically brings our prehistoric friend back to life. This legendary creature is sure to fuel imaginative play sessions as it roams around your self-created Jurassic World.
No Shortage of Adventure
Go beyond regular building sessions and immerses you into a world brimming with unending adventures. Will you track down the hidden treasure chest? Or get lost in the dense Lego-built jungle vegetation while trying? Not just a constructible set but also a catalyst prompting wide-ranging narratives inspired by LEGO's Jurassic World animated series.
An Ideal Gift Option
This highly engaging set serves as a worthy addition to any Lego enthusiast's or dinosaur fanatic's collection making it a perfect gift option that promises hours of fun-filled play while igniting creative storytelling.
In conclusion, get ready to step into an exciting world where epic adventures await at every corner with LEGO's 'Baryonyx Face-Off: The Treasure Hunt'. With every piece assembled, discover new possibilities and narratives while re-establishing the awe-inspiring allure of prehistoric creatures.