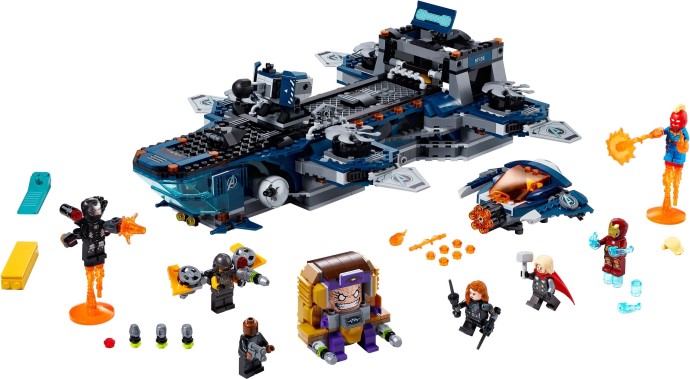 Experience the Marvel Universe with the LEGO Avengers Helicarrier Set
It's time to unleash your imagination and dive into the thrilling world of Marvel Super Heroes with the brand-new LEGO set, Avengers Helicarrier (set number 76153). This engaging constructible toy collection was designed by Bjarke Lykke Madsen and released as a part of the overall Marvel Super Heroes theme, specifically in the Avengers subtheme, in June 2020.
Diving into the Set
This intricately crafted LEGO Marvel Avengers Super Heroes set allows young builders to replicate a classic symbol of superhero lore – the iconic Avengers Helicarrier. Made up of 1244 exquisite pieces, this model delivers a detailed and accurate representation of this well-known superhero base.
Minifigures Galore!
The Helicarrier set is more than just a grand construction project! This mind-blowing set brings together some of the most loved characters from the Marvel Cinematic Universe in LEGO form. It contains a total of eight entirely collectible minifigures that will certainly excite any Marvel fan: Iron Man, War Machine, Thor, Black Widow, Captain Marvel, Nick Fury, an A.I.M. Agent and none other than super villain M.O.D.O.K. himself.
An Adventure Packed Journey Through Avengers Action
Builders will find themselves immersed in thrilling adventures straight out of their favourite Marvel movies as they bring these superheroes together on board their very own LEGO Helicarrier. This high-tech ship features several sphere cannons that can be prepared for battle, rotating rotors enhancing its realism and a cockpit area that can accommodate up to three mini figures for those high-speed chase sequences. What's more, it's supported by an incredibly designed base that makes it ideal for dramatic, action-packed playtime scenarios or as a stunning display piece.
Tailored for Young Avengers Fans
Perfectly suited for children over the age of nine, this toy measures over 37cm in length offering superhero action on an impressive scale and boasting fine detailing suggestive of its £109.99 RRP price tag. Weighing in at 1.65Kg however, doesn't deter any imaginative pursuits but rather enhances them.
A No Battery Fun Continuum
No need to worry about stocking up on batteries! The adventures aboard this LEGO Helicarrier are powered by nothing more than your child's boundless imagination. From recreating favourite movie scenes to inventing new storylines, there are no limits to where their imagination can take them with this set!
Included with this kit are easy-to-understand instructions designed to facilitate immediate building and playing while ensuring your youngster benefits from all aspects of this marvelous toy.
A Legacy of Quality – The LEGO Promise
Rest assured knowing that this Avengers Helicarrier adheres to the stringent quality and safety standards associated with every LEGO product since 1958 – inducing compatible construction experiences and secure playtime sessions for young builders worldwide.
In conclusion, whether you're shopping for an avid LEGO collector or just a young fan wanting imaginative playtime with their favourite heroes or villains – the LEGO® Marvel Avengers Helicarrier (76153) is indeed an irresistible marvel that guarantees endless fun battles between good and evil!