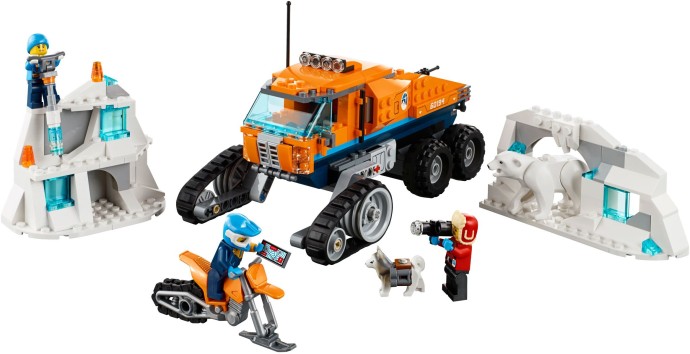 A Closer Look at LEGO's Arctic Scout Truck
Enter an unexplored world of snow-capped peaks and icy tundras with the remarkable LEGO City set – the Arctic Scout Truck with item number 60194. Unveiled to the world in June 2018, this breathtaking slice of the Arctic will awe-inspire any LEGO enthusiast aged between 7 and 12 years old.
An Impressive Addition to The City Theme
The Arctic Scout Truck is part of the much-loved City subtheme, the Arctic, which effectively encapsulates the gritty reality of exploration in freezing temperatures. Consisting of a sizeable 322 pieces, this set melts the borders between play and imagination, providing kids with endless hours of chilly thrills amidst crashing ice walls and mysterious ice caves.
More Than Just Building Blocks
Priced at £39.99, $59.99 or 49.99€ respectively, this Arctic Scout Truck ensures that each penny spent awards builders with a sense of accomplishment. With a weight of 1.59 lb (0.72 kg) and dimensions falling within 38 x 26 x 6.7 cm (15 x 10.2 x 2.6 in), it presents a perfect balance of complexity and manageability for young explorers.
Adventures Galore: Let Your Expedition Begin!
Fancy cruising across treacherous terrains on a snow bike as biting winds whip past? The set's truck, kitted out with front tracks and 4 all-terrain wheels, not only offers thrill-seekers exciting escapades but also doubles up as an onboard analysis station for curious minds eager to uncover the secrets of the harsh tundra.
Characters That Bring Life To The Adventure
No expedition is complete without a trusty crew, and LEGO doesn't disappoint! The set boasts three unique minifigures: two audacious drivers ready to man the scout truck through perilous landscapes, a dedicated biologist hellbent on investigating the patterns of native polar bear activity, a husky as your constant arctic companion, and an alluring polar bear figure that adds an element of untamed wildlife into the mix.
Inquisitive Extras That Amplify The Experience
The edge-of-your-seat adventure doesn't stop there! LEGO's inclusion of extra elements like beacons, a coring tool for keen geologists in-training, camera for capturing elusive fauna in their natural habitat, and a radio to maintain contact with your base station only adds to the realism of this once-in-a-lifetime expedition scenario.
Innovations that Break The Ice
Continually pushing boundaries and fostering creativity amongst kids worldwide, LEGO also presents experienced builders with an opportunity to bring their icy adventure to life with digital interactivity! Combine your Arctic Scout Truck with the separately sold LEGO BOOST Creative Toolbox (17101). By downloading the free app associated with it you can code your own story by automating actions such as operating the forklift or simulating a whale rescue operation!
Final Words
No stone has been left unturned in providing an immersive experience for young explorers eager to embark on their very own arctic odyssey! Assembled carefully over generations of craftsmanship, every piece tells a story and opens up new avenues for learning through imaginative-play. It is no wonder then that till its retirement on December 31, 2019, the Lego City Arctic Scout Truck had remained a coveted possession among builders both young and old alike.