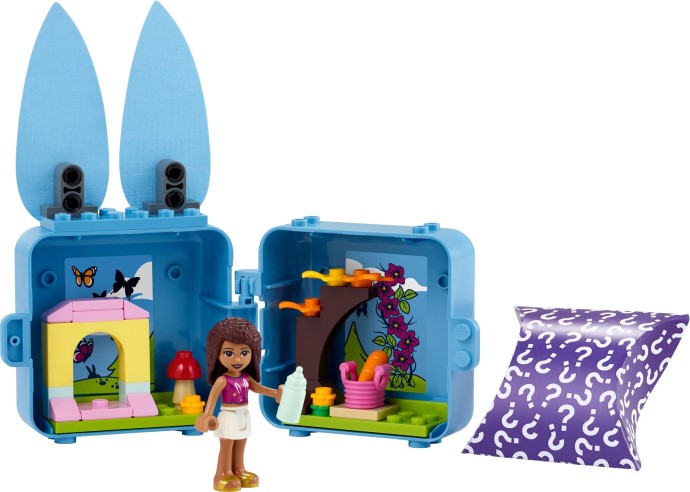 Discover the Charm of LEGO® Friends Andrea's Bunny Cube
Designed for the young and young at heart, LEGO® Friends Andrea's Bunny Cube (#41666) is an adorably packaged rabbit toy set that promises to delightfully engage minds in a world of constructive play. Released on January 1, 2021 and retired on December 31, 2021, this delightful toy stands as a tribute to the kind of quality playsets that LEGO® is renowned for. With 45 pieces masterfully arranged within its compact dimensions of 15.7 x 21 x 5.2 cm, this playful cube comes with an enticing price tag of £8.99 / $9.99 / 9.99€.
Unveiling Charms Within the Box
The moment you unbox the Andrea's Bunny Cube, your excitement is likely to quadruple! Inside the adorable bunny-face-operated cube waits an ingeniously buildable rabbit hutch co-existing with a charming tree and mushroom. While the child-sized pieces are easy enough for children aged six and up to manipulate, they are also designed to stimulate creative thinking, developing motor skills whilst engaging children in fun-filled play.
A Treat for Little Animal Lovers
If you know a child who has a soft spot for cute little creatures, then this is the perfect gift! This set features an adorable bunny figure available in one of four different colours. Plus, LEGO® Friends Andrea's Bunny Cube includes a mini-doll toy rendition of fan-favourite character, Andrea. With her at their side children can spin delightful tales centred around nurturing and caring for animals.
The Perfect Play Companion On-the-Go
Crafted to be travel-friendly, Andrea's Bunny Cube ensures no piece is ever misplaced or left behind. All elements fix securely onto the base of the box or pack away inside neatly. For days out or playdates at a friend's house, this small but mighty cube transforms into an instant playground packed full with imagination-inspiring accessories.
Captivating Quality
LEGO® ardently adheres to globally recognised safety standards and industry norms guaranteeing consistent quality in all their products since its inception in 1958. The components of the Friends Andrea's Bunny Cube have been tested extensively to ensure maximal durability while maintaining compatibility with other LEGO® sets. This permits budding builders the freedom to seamlessly integrate this set into their growing LEGO collections.
Invest In A World of Creative Adventures
Inspirational and affordable, Andrea's Bunny Cube acts as a perfect entree into the wider universe of LEGO® toys by stirring heartfelt connections with animal-focused play narratives based in Heartlake City alongside LEGO's relatable characters. Give your child or loved one this gift and watch as it fuels their creativity one building block at a time!