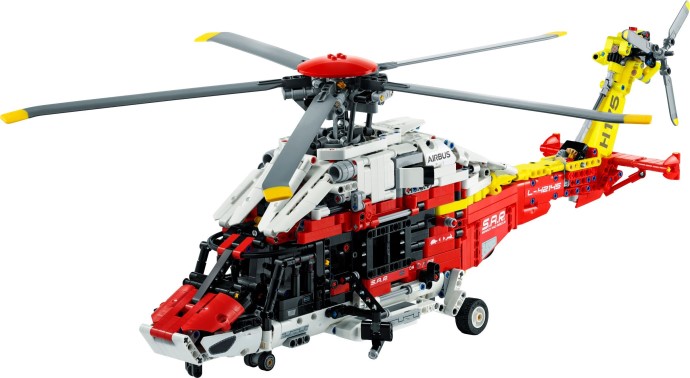 A Spotlight on Technic Airbus H175 Rescue Helicopter: LEGO's Exemplary Set
Thriving in the world of toys and structural architectures, LEGO® has once again exceeded expectations with their LEGO® Technic™ Airbus H175 Rescue Helicopter (42145) set. The embodiment of both artistic design and refined functionality, this set brings to the table a taste of adventure that kids who are eager to understand engineering principles won't be able to resist.
Fostering curiosity and encouraging exploration, this technologically advanced helicopter set is perfect for any child over the age of 11. Not only does the set ignite a fascinating journey towards understanding intricate engineering concepts, but it also transforms into a beautiful depiction of a rescue helicopter when assembled.
Immerse Yourself in Real-Life Details
The LEGO® Technic™ Airbus H175 Rescue Helicopter (42145) set is not just another block-building game; instead, it is an exemplary representation of real-life aircraft such as can be found in search and rescue operations. The eye-catching features intricately mirror those of actual helicopters – offering users an exciting and insightful building experience.
This model embraces numerous moving functions, all powered up by the included motor. With spin rotor and tail rotor functionalities offered in varying speed settings, this set truly mirrors the intriguing mechanics of a functional helicopter. Moreover, its retractable landing gear and spinning engine inject realism into the playtime. Watch your creation come alive as you engage each specific function.
A Motorized Masterpiece with Engaging Interactions
Beyond purely motorized features, the Airbus H175 set also presents manual operations that make it a truly interactive toy. Crafted with fidelity to actual helicopters' functioning principles, it allows operators to control the pitch of rotor blades using a swash plate mechanism. Furthermore, doors can also be manually opened, including cockpit doors and passenger sliding doors.
This hands-on building experience reveals for young builders how real-life machines work. As they master how to open front and rear cowlings, they learn about real-life systems such as steering mechanism operations or even basics of engine mechanics.
Elevating Fun with Educational Elements
With this Airbus H175 Rescue Helicopter model by LEGO® Technic™, complexity meets ingenuity. This challenging yet fun project fosters young children's creativity while introducing STEM concepts related to physics and engineering at an early age. Developers have applied high-quality standards during the design process to ensure consistency, compatibility, and reliable connections every time.
Not only is this meticulously crafted toy built to meet strict safety standards for children worldwide, but it also forms an introduction to engineering in an insatiably captivating manner. The assembly process requires six 1.5v LR6 (AA) batteries – which means once assembled; kids can awaken their helicopter into life!
In essence, the LEGO® Technic™ Airbus H175 Rescue Helicopter (42145) is more than just a splendidly entertaining toy for youngsters; it metaphorically serves as a stepping-stone into the vast universe of engineering for those who dare to explore beyond mere fun.