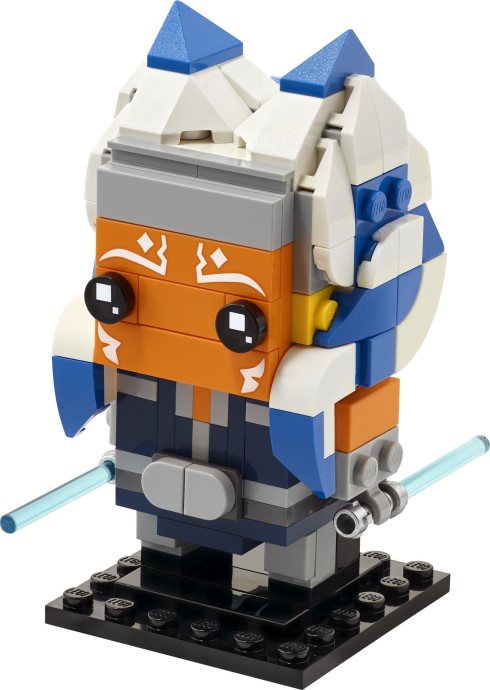 Introducing the Ahsoka Tano LEGO BrickHeadz Set
Are you ready to immerse yourself in the Star Wars universe with the latest addition to the LEGO® BrickHeadz™ collection? Welcome Ahsoka Tano, a celebrated character from Star Wars: The Clone Wars. This outstanding buildable figure set (40539) is perfect for all fans of the beloved franchise, especially those who admire the courageous Jedi hero. Let's dive into the thrilling features and details of this captivating LEGO® set!
Revive the Iconic Jedi Hero
The Ahsoka Tano LEGO BrickHeadz (40539) allows you to bring to life a favorite character from Star Wars: The Clone Wars. As a 150th edition buildable figure, this creation features exquisite details that accurately capture Ahsoka Tano and her iconic outfit. Moreover, it includes not just one, but two dazzling blue lightsabers that enhance its overall appeal. Whether you're a seasoned builder or new to the franchise, this set will surely leave you mesmerized by its intricate design.
A Fun and Engaging Building Experience
With 164 pieces to assemble, this LEGO® Star Wars™ themed set offers both adults and kids aged 10+ an enjoyable and creative building experience. Step-by-step instructions are provided to make the entire process smooth and engaging, ensuring fun for the entire family while capturing the essence of this powerful Jedi heroine.
Showcase Your Love for Star Wars™
After constructing Ahsoka Tano as a LEGO BrickHeadz figure, you'll be thrilled to display her on the included baseplate—perfect for showing off your passion for all things Star Wars™. The completed model measures over 3.5 in. (9 cm) high, 2 in. (5 cm) wide, and 2.5 in. (7 cm) deep, making it an eye-catching addition to any collection.
Perfect Gift for Any Star Wars™ Fan
Given its stylish design, affordable price (RRP: £9.99 / $9.99 / 9.99€), and a cost-per-piece of just 6.1p / 6.1c / 6.1c, the Ahsoka Tano LEGO BrickHeadz (40539) makes for an ideal present for any occasion. Surprise the Star Wars™ enthusiast in your life with this brilliant set that combines the allure of LEGO® building and the essence of Ahsoka Tano from the Star Wars: The Clone Wars series.
In conclusion, the Ahsoka Tano LEGO BrickHeadz set honors a true Jedi hero with incredible detail and fantastic building experience. Whether you're buying it as a gift or adding it to your personal collection, this remarkable construction toy is sure to delight all Star Wars™ fans!