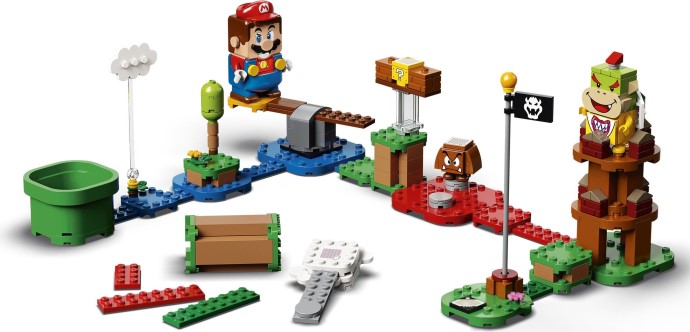 Welcome the Adventures with Mario
Immerse into an interactive world of gaming with LEGO® Super Mario™ Adventures with Mario Starter Course (71360). This unique set not just embodies the fun and charm of the much-loved video game, Super Mario, but also offers a multisensory play experience with a technology-enabled LEGO Mario figure that responds in real-time via LCD screens and speaker.
Fun at Your Fingertips
This riveting starter course invites players to guide the dynamic LEGO Mario from his starting spot through an arrangement of blocks, platforms and battles with familiar foes like Goomba and Bowser Jr. For a twist that keeps the entertainment fresh, the playing area can be rearranged and tailored to create completely new levels.
Bridging Building and Technology
An enlightening feature of the Adventures with Mario set is the integration of technology. The LEGO Mario figure is equipped with color sensors that help him interact with his environment and gyros that detect movement. The figure's LCD screens display a range of expressions, while an inbuilt speaker adds another layer of realism by playing iconic sounds and music from the video game.
Solo or Group Play Magic
Suitable for children aged six years and up, this 231-piece set is designed for both independent play or exciting games against friends. Players can immerse in virtual coin collecting as they navigate LEGO Mario from the Start Pipe to the Goal Pole. This kit orients kids towards problem-solving whilst offering plenty of creative fun.
App-enhanced Gaming Experience
The fun does not stop at building and battling! A complimentary LEGO Super Mario app enhances play by supplying zoom and rotate viewing tools for easier assembly, creative alternatives for building and playing, as well as a secure platform to share ideas with friends.
A Universe of Possibilities
This set gives birth to an infinitely expandable Super Mario universe in your home! It serves as a gateway to explore numerous expansion sets available, allowing kids (and adults) to reconstruct levels for various challenges. Whether venturing alone or competing against friends, every game promises unique entertainment.
The Quality You Trust
All LEGO bricks are put through rigorous testing – they are dropped, heated, crushed, twisted just to make sure every piece meets the highest safety and quality standards. You won't need any Super Star's power to connect or pull them apart either – that's been the guarantee since 1958!
In conclusion, LEGO® Super Mario™ Adventures with Mario Starter Course (71360) is a fusion of traditional LEGO fun and innovative gaming rolled into one dynamic package that promises endless possibilities!