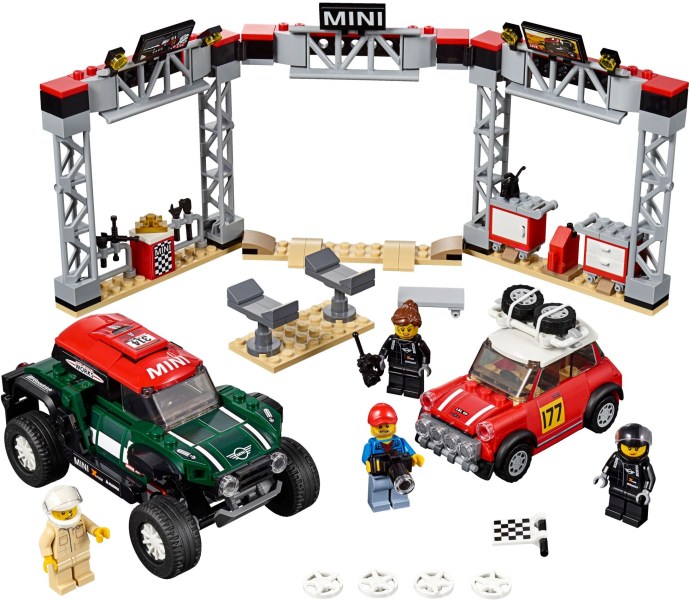 Experience the Thrill with 1967 Mini Cooper S Rally and 2018 MINI John Cooper Works Buggy Lego Set
If you're a fan of racing and constructing, Lego offers the perfect amalgamation with 75894 1967 Mini Cooper S Rally and 2018 MINI John Cooper Works Buggy set. Launched under the Speed Champions theme, it's a tribute to two incredible machines that have carved their names in rally racing history.
Classic vs Modern: The Timeless Race
This Lego kit revives the timeless clash between new and old, showcasing a classic 1967 Mini Cooper S Rally and a modern 2018 MINI John Cooper Works Buggy. The vintage model is packed with detail, right down to its rooftop holding two spare tyres, echoing the original design in true essence. On the other hand, the 2018 version features realistic suspension detailing, showcasing Lego's dedication to authenticity. Whether you're into modern marvels or vintage classics, this set allows you to experience the best of both worlds.
Immersion beyond Building Blocks
But this Lego set doesn't stop at the cars – it features a richly equipped pit stop station covering all your repair and maintenance scenarios. This small yet elaborate setup includes tool racks, openable tool cabinets on wheels, a buildable car jack stand, and an under-car creeper used by mechanics. Animating every tiny detail in assembly tasks broadens your horizons of play beyond racing floor.
The Pilots behind the Wheels
Fans will commend this package as it comes with four minifigures- drivers for both cars, a race marshal donned in cap and flag textures reminiscent of real-life races, and a mechanic decked out in tools essential for any pit crew. Each helmeted driver fits perfectly within their assigned vehicles upon removing the windshields, adding another layer of playability and authentic feel to this remarkable set.
Tactile Details for Added Realism
Each of these tiny vehicles' tactile reveals heightens children's appreciation for design intricacies while firing up their imaginations during playtime. The tires—made from rubber—further enhances the realism effect when racing across flat surfaces or braving rough terrains.
Celebrate Victories in Style
After tough races against friends or CPU opponents, builders can commemorate victories with an elaborate trophy featured at the pit stop station. This creates an immersive environment where kids can simulate award ceremonies after race events just like professional racers.
A Timeless LEGO® Addition
Designed for children aged eight years and above, this Lego set constitutes an excellent gift for all occasions, complimenting any existing LEGO® collections seamlessly due to its interactive games and superb attention to detail rooted in reality. Equip your child with this entertaining yet educational Lego set today and spark their passion for motorsport history!