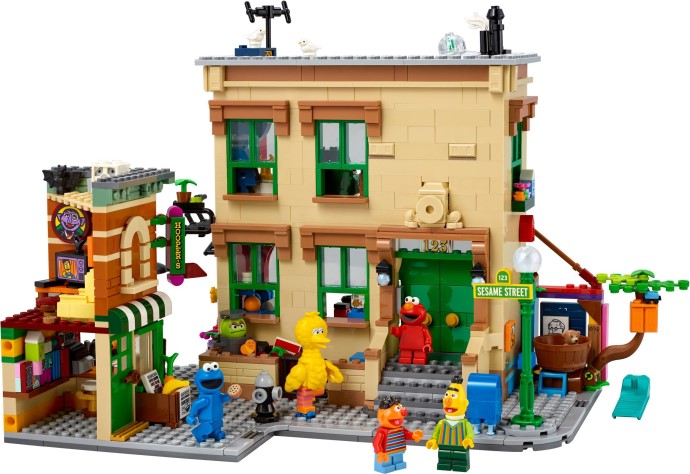 An Inside Look: LEGO's "123 Sesame Street"
For over half a century, Sesame Street has been carving a narrative of family-friendly values on our television screens. Now, with the launch of LEGO® Ideas' set 21324, you can own your very own vibrant slice of 123 Sesame Street, recreated meticulously with richly colored LEGO bricks.
A World Of Nostalgia In Your Hands
This charming model captures every nook and cranny of the iconic 123 Sesame Street building, amounting to Bert and Ernie's apartment, Elmo's room and even Bert's rooftop bird house. It is chock-full of true-to-show details and accessories that will definitely evoke a sense of nostalgic delight in every fan's heart.
Bringing The Street To Life
Not limited to just the building, this set adorns the neighboring elements with Hooper's Store, Big Bird's nest, Oscar the Grouch's trash can and so many more features that complete this beloved street corner scene. Infusing life into this scenario are adorable minifigures of Elmo, Cookie Monster, Bert and Ernie as well as Oscar the Grouch and Big Bird figures.
Mindful Building Time
LEGO has strategically designed this set keeping in mind adult fans looking for a mindful retreat into creative realms. Consisting of 1367 pieces, not only is this an appealing collectible but it also serves as a mood-lifting activity to delve into after a long day or for quality time with loved ones.
Product Dimensions And Pricing Details
The model occupies 37.4 x 35.2 x 9.1 cm space (14.7 x 13.9 x 3.6 inches) weighing about 1.86kg (4.1 lbs). Launched on November 1st 2020 and available until December 31st, 2022; each piece effectively costs around £104.99 / $119.99 / 119.99€ which justifies the value you get from each detailed masterpiece that is part of this set.
More Than Just A Build
Beyond providing countless hours of construction enjoyment, building this LEGO model is also an opportunity to celebrate the Sesame Workshop – a dedicated nonprofit organization that aims to empower children worldwide. By acquainting yourself with these colorful characters and their street, you're indirectly appreciating Sesame Street's mission for smarter, stronger and kinder kids across the globe.
A Gift For All Ages
It's not "just" another building set – it's a ticket back to childhood! This awe-inspiring model could be an ideal gift for any hobbyist in your life or can stand as an impressive display piece in any home bringing back fond memories while catching everyone's eye.
In The Box: A Treasure Trove Of Extras
Each purchase comes bundled with illustrated instructions that will ease you into the building process- perfect even if you're new to LEGO – plus an informative booklet revisiting the history of Sesame Street and insights about its fan designer.
A Tribute To Quality
LEGO bricks adhere to unwavering industry standards in quality maintaining consistency in fitting and pulling apart easily since 1958! Every bit has been rigorously tested guaranteeing optimal safety consistent with LEGO's staunch quality policies – for your most enjoyable building experience!