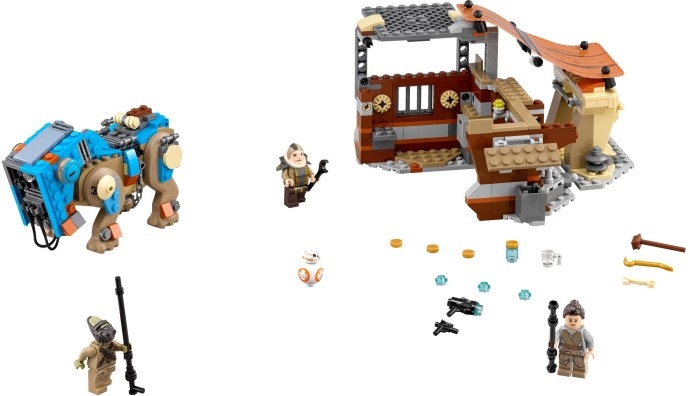 Explore the Exciting World of Encounter on Jakku
Embark on an epic quest to find your favorite Star Wars characters in the thrilling LEGO set, Encounter on Jakku (#75148). Inspired by the major motion picture Star Wars: The Force Awakens, this captivating playset transports fans young and old to the desert planet of Jakku, where unforgettable moments and scenes come to life with stunning attention to detail.
A True-to-Film Recreation
The Encounter on Jakku set pays homage to the iconic Unkar Plutt's market stall, where Rey must defend BB-8 from Teedo and his fearsome armored Luggabeast. LEGO enthusiasts will appreciate the multi-level design, filled with intricate details like individual tables, a secure safe for precious cargo, hidden weapons, and a tarpaulin for that extra touch of authenticity. This set even features a foldout design for easy play access, so you can dive right into the heart-pounding action.
LEGO Minifigures: The Force is Strong With Them
No Star Wars adventure is complete without your beloved heroes and antagonists. Encounter on Jakku includes miniature renditions of Rey, Teedo, and Unkar Plutt – all meticulously crafted to capture their unique essence. Accompanying their human counterparts are two fascinating creature minifigures: an adorable BB-8 Astromech Droid and a towering Luggabeast – complete with armor plating and room for a minifigure rider.
The Ultimate Gift for LEGO & Star Wars Fans
With 530 pieces in total and an age-appropriate rating of 8-14 years-old, this set offers endless possibilities for interactive fun while honing creative building skills. The Encounter on Jakku set measures up impressively at 11cm (4″) high, 10cm (3″) wide, and 20cm (7″) deep when closed; and Luggabeast stands tall at 11cm (4″) high, 12cm (4″) long, and 6cm (2″) wide. This highly collectible set is an excellent gift for all LEGO Star Wars enthusiasts.
A Galaxy of Accessories & Weapons
The Encounter on Jakku set is loaded with accessories tailored to enhance your play experience. Prepare for action with Rey's staff and Teedo's guiding stick and maintain order on your interstellar journey. Other accessory elements include a wrench, cup, and broom – each perfect for making the story come alive
Conclusion
Get ready to relive the breathtaking moments from Star Wars: The Force Awakens in style with Encounter on Jakku – a playset that offers endless hours of engaging fun for LEGO aficionados and Star Wars fans alike. Channel the power of the Force as you battle desert-planet foes, uncover hidden surprises, and create memorable adventures in this perfect addition to any LEGO Star Wars collection.