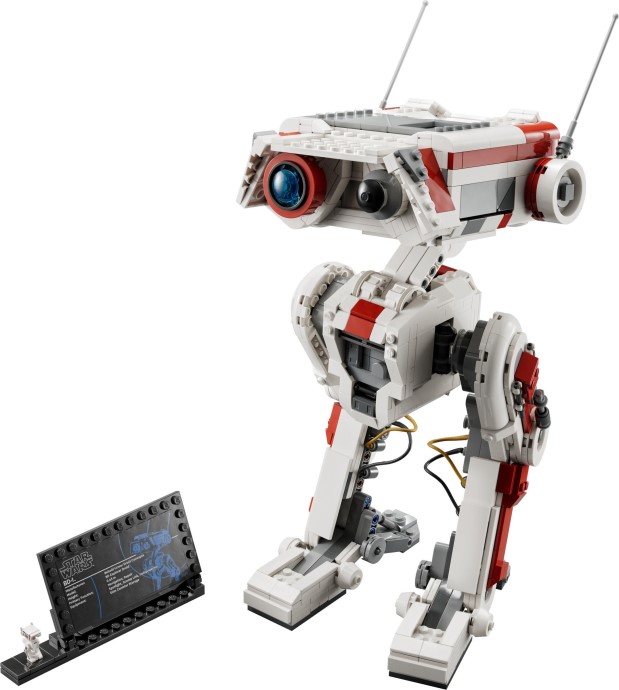 Explore the Galaxy with LEGO® Star Wars™ BD-1
Calling all Star Wars Jedi: Fallen Order fans! The iconic adventure now comes to life with the LEGO® Star Wars™ BD-1 (75335) set. This incredibly detailed model captures the charm and personality of your favorite exploration droid, BD-1, in a sturdy collectible with 1062 pieces. Designed for both dedicated collectors and enthusiastic builders alike, aged 14 years and above, this build-and-display set offers hours upon hours of entertaining and creative play.
A Blast From Jedi: Fallen Order
The BD-1 droid model from the LEGO® Star Wars™ series draws inspiration from the blockbuster video game Star Wars Jedi: Fallen Order. Featuring posable joints and a head that can be tilted in various directions, this brick-built model adds fantastic playability to your collection. The intricate design goes a step further by including a stim canister compartment in addition to translucent elements for simulating BD-1's mood display – making it a must-have for any fan.
An Exquisite Display Piece
The LEGO® Star Wars™ BD-1 (75335) isn't just about playtime; it also makes for an eye-catching centerpiece in any room or collection. Standing at an impressive height of 12.5 inches (31 cm), this model demands attention. A BD-1 LEGO® figure and an information sign accompany this charming piece, adding an extra level of detail that's sure to delight fans of the game and LEGO® sets alike.
Embark on Your Building Adventure
Complete with helpful instructions, it's never been easier to create your very own LEGO® Star Wars™ masterpiece. Builders who crave an up-close-and-personal digital experience will benefit from the LEGO® Building Instructions app, providing a virtual 3D model that makes it simple to rotate and zoom in on every segment of the build.
Connect with a Galaxy of Creative Fun
Ever since 1999, LEGO® and Star Wars™ have teamed up to present iconic characters, starships, and locations from the beloved sci-fi universe. Delve into this vast selection of buildable playsets and intricate brick-built models made for fans of any age, and gift the perfect birthday or holiday treat to your favorite Jedi: Fallen Order enthusiast!
Quality Meets Safety
As with all LEGO® creations, the Star Wars™ BD-1 (75335) adheres to a rigorous quality assurance process, ensuring each piece connects simply and securely for a lasting build. The strenuous testing goes even further as LEGO components undergo various physical tests such as impact drops, twisting, crushing, and exposure to heat to comply with strict global safety standards.
So what are you waiting for? Embark on an epic building adventure from Star Wars Jedi: Fallen Order with the LEGO® Star Wars™ BD-1 (75335) set today!
Product Specs
Product Specs
Product Name:
BD-1
Pieces
1062
RRP
£89.99 / $99.99 / 99.99€
Release Year
2022
Theme
Star Wars
Instructions
Lego BD-1 Instructions