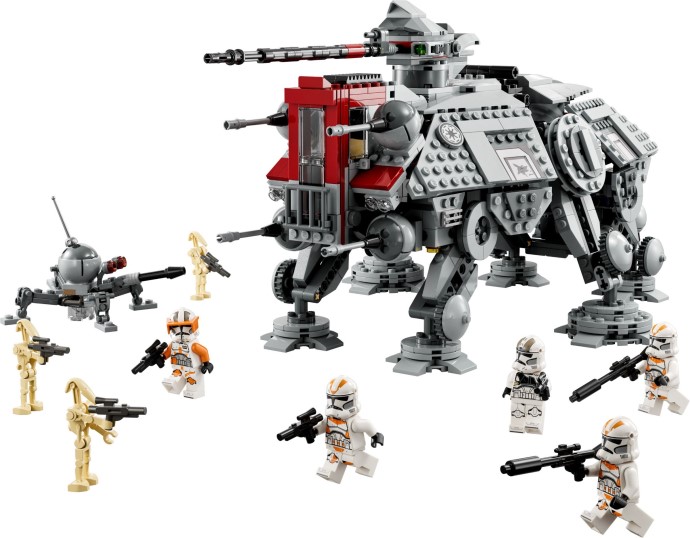 Discover the LEGO® Star Wars™ AT-TE Walker (75337)
Embark on a thrilling intergalactic adventure with the LEGO® Star Wars™ AT-TE Walker (75337) set! This impressive building toy offers endless possibilities for creativity and play, making it perfect for both kids and adults alike. Inspired by the iconic Battle of Utapau from Star Wars: Revenge of the Sith, this set brings an exciting addition to any LEGO® Star Wars™ fan's collection.
An Intricate Build for Star Wars Enthusiasts
With 1,082 pieces, this elaborate AT-TE Walker is meticulously designed for deep immersion into the world of Star Wars. The walker features an array of posable legs that allow for realistic movement, and a 360-degree-rotating elevating heavy blaster cannon with powerful stud shooters. Detailed cabins and a detachable minifigure cockpit provide room for up to seven LEGO minifigures, making it ideal for engaging role-play scenarios. Additionally, the extendable handle makes it easy to lift, move, and display your creation proudly.
Action-Packed Minifigures
This LEGO® masterpiece includes nine minifigures to enrich the Battle of Utapau experience. Commander Cody leads the charge alongside a 212th Clone Gunner and three 212th Clone Troopers. They face off against three menacing Battle Droid LEGO figures, as well as a cunning buildable Dwarf Spider Droid. Equipped with an arsenal of cool weapons, these minifigures are ready to wage epic battles straight out of the Star Wars universe.
Building Instructions for All Ages
The AT-TE Walker building set ensures a smooth building process with clear and concise instructions available in the box and on the LEGO® Building Instructions app. The interactive viewing tools in the app enhance the creative experience, making it a pleasure to construct for LEGO enthusiasts aged 9 and up.
Expand Your LEGO® Star Wars™ Collection
Explore the vast range of LEGO® Star Wars™ sets and discover a treasure trove of construction sets that cater to fans of all ages. Whether it's building favorite scenes from the movies, crafting original stories, or simply displaying impressive models, there's a LEGO Star Wars set waiting for you!
Quality and Safety Guaranteed
The AT-TE Walker building set adheres to strict quality standards, ensuring compatibility and secure connections between bricks. All LEGO® components undergo thorough testing to guarantee satisfaction with robust builds and adherence to rigorous global safety standards.
Surprise the Star Wars enthusiast in your life with this incredible LEGO® Star Wars™ AT-TE Walker (75337) building set. Not only does it offer hours of engaging construction fun, but it also serves as a stunning display piece for any collector's shelf. May the Force be with you!
Product Specs
Product Specs
Product Name:
AT-TE Walker
Pieces
1082
RRP
£119.99 / $139.99 / 139.99€
Release Year
2022
Theme
Star Wars
Instructions
Lego AT-TE Walker Instructions