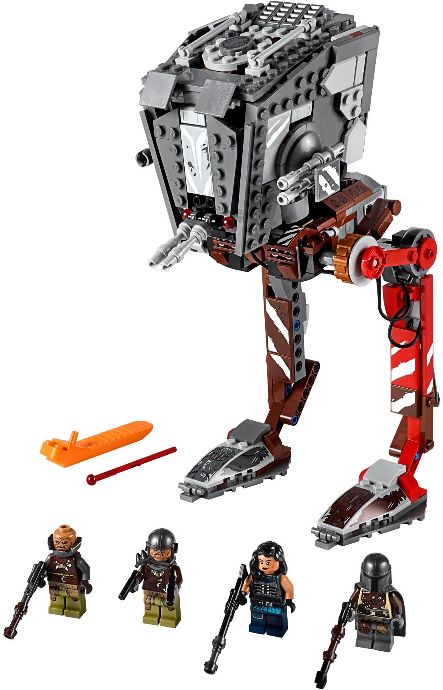 A Detailed Look at the Lego Star Wars AT-ST Raider Set
Embark on an intergalactic building journey with the 75254 LEGO Star Wars AT-ST Raider set. With a release date in late 2019, under the subtheme of 'The Mandalorian', this stylishly designed model stemmed from the creative mind of renowned designer Hans Burkhard Schlömer. The action-packed replica highlights the unique features of its on-screen counterpart, becoming an exciting task for LEGO enthusiasts and Star Wars fans alike.
Fascinating Design and Elaborate Details
The AT-ST Raider, a standout in The Mandalorian TV show, has been reimagined into 540 intricate LEGO pieces. This compelling building set faithfully captures the distinctive cannibalized appearance of the original walker, adding a great level of authenticity to its design. The model doesn't shy away from details and offers jointed posable legs that add dynamism to its structure. It also hosts a wheel-activated turret swiveling to mimic realistic battle scenarios, an opening canopy and an elaborate cockpit that accommodates a miniature figure.
Iconic Minifigures and Impressive Accessories
Further intensifying the excitement are the four Star Wars character minifigures: The Mandalorian, Cara Dune and 2 Klatooinian Raiders. These figures add depth to make-believe play, allowing you to stage thrilling combat scenes right from your living room floor! Alongside these characters, the set arrives with three blaster rifles and a blaster – accessories vital to recreate epic Star Wars adventures.
Ideal Addition for any LEGO Collection.
Aimed at builders aged 8+, this set isn't just a pile of blocks; it's a gateway to myriad future adventures in galaxies far, far away. Measuring over 9″ (25cm) high, 5″ (15cm) long and wide, this iconic war machine is sure to command attention wherever it's displayed. The sense of satisfaction that arrives when piecing together each part rewards patience and precision in ways that only LEGO sets can achieve.
A Perfect Gift Choice for All Occasions
The LEGO Star Wars AT-ST Raider is more than just a toy; it's an experience. Whether you're hunting for an engaging birthday present, a thoughtful Christmas gift or simply seeking a special something for the Star Wars enthusiast in your life, this raider set ticks all boxes. Plus, it's priced fairly at just £49.99 / $49.99 / 59.99€ making it an affordable gateway into classic sci-fi action!
In Conclusion
The LEGO Star Wars AT-ST Raider is undoubtedly much more than an ordinary building set; it's a celebration of storytelling! It expertly merges the captivating world of Star Wars with practical hands-on building experience – making it an irresistible choice not only for dedicated collectors but also for any child (or child at heart).