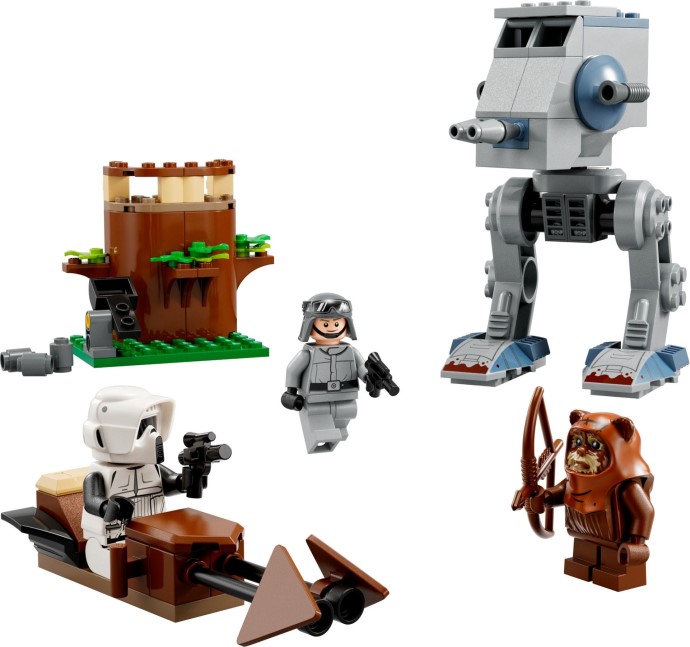 Discover the Exciting World of LEGO® Star Wars™ with the AT-ST (75332) Starter Set
Get ready to embark on an epic journey into the captivating Star Wars universe with the enthralling LEGO® AT-ST (75332) building set. This fantastic starter set enables kids aged 4 and up to create their very own adventure inspired by Episode VI – The Return of the Jedi. They can play out thrilling scenes from the Battle of Endor with Wicket, Scout Trooper, and AT-ST Driver minifigures, as well as an easy-to-build AT-ST walker model, speeder and Ewok lookout.
Introducing Young Builders to LEGO® Star Wars™ Fun
The AT-ST (75332) set is designed specifically for young children, providing them with a unique and engaging learning experience. Featuring a convenient Starter Brick base for swift construction, kids can easily build and recreate iconic Star Wars vehicles, structures and much more. With app-assisted digital instructions -complete with zoom and rotate viewing tools- kiddos are guaranteed an enjoyable and instructive time while constructing their favorite galactic creations.
Jaw-Dropping Details for Endless Entertainment
Brimming with delightful components, this set comes fully equipped to provide a wonderful playtime experience. Budding designers will appreciate the posable AT-ST walker with its minifigure cockpit, whilst they'll also adore Wicket's tree hideout – complete with a catapult launcher for added action. The set packs a grand total of 87 pieces, making it ideal for younger children who are new to LEGO building.
A Perfect Gift for Star Wars Fans
If you're searching for an enchanting present that ticks all the boxes look no further than the AT-ST (75332) set. Its easy, learn-to-build design, captivating features and affordable price tag make it an outstanding gift for birthdays, holidays or simply as a delightful surprise. With its diverse range of characters, accessories and play scenarios, this starter set is sure to captivate the minds of little Star Wars enthusiasts for hours on end.
The Quality and Safety You Expect from LEGO®
As with all LEGO® products, the AT-ST (75332) building set is crafted using exceptional quality components that adhere to stringent global safety standards. Ensuring a consistent and secure connection while providing robust builds, these LEGO sets prioritize child safety in every aspect. So you can rest assured that your kiddos are diving into a safe and enjoyable toy when embarking on their intergalactic escapades.
Conclusion
The LEGO® Star Wars™ AT-ST (75332) starter set unlocks the door to thrilling adventures in a galaxy far, far away. Inviting creative youngsters to construct their own fun-filled journeys inspired by The Return of the Jedi, this engaging building set promises an unforgettable experience for Star Wars fans of all ages. Packed with enthralling features and adhering to rigorous quality and safety standards, this delightful building set is a must-have addition to any young builder's collection.
Product Specs
Product Specs
Product Name:
AT-ST
Pieces
87
RRP
£29.99 / $34.99 / 34.99€
Release Year
2022
Theme
Star Wars
Instructions
Lego AT-ST Instructions