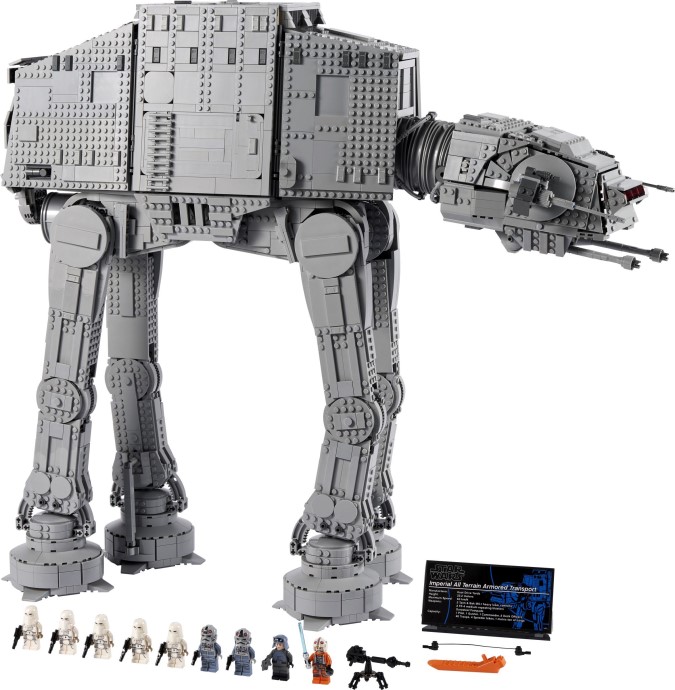 Introducing the Ultimate Collector Series AT-AT: LEGO's Star Wars Masterpiece
It's time for Star Wars fans and LEGO enthusiasts to come together in celebrating one of the most iconic and magnificent sets ever released by LEGO: The AT-AT (75313). Part of the esteemed Ultimate Collector Series, this mammoth build-and-display model goes above and beyond expectations with its impressive features, intricate details, and remarkable design reminiscent of the Battle of Hoth from Star Wars: The Empire Strikes Back.
A Titanic Build for the True Fan
The AT-AT LEGO set is an extraordinary offering with posable legs and head. This breathtaking model further captures hearts of fans with its realistic recoil action cannons, rotating cannons, bomb-drop hatch, and even providing a nostalgic touch by allowing a hook to attach to Luke Skywalker's line. Every LEGO Star Wars enthusiast will surely appreciate the intricate design and thought process put into this masterpiece.
An Imperial Army Playground
This colossal AT-AT stands at over 24.5 inches (62 cm) high – a gigantic display designed to create a thrilling experience for builders. Upon removing its panels, you can marvel at the detailed interior where space for 40 LEGO minifigures awaits – nine of which are included in this set (General Veers, Luke Skywalker, Snowtrooper Commander, 4 Snowtroopers, and 2 AT-AT Drivers). Additionally, you can accommodate four speeder bikes (2 provided) and showcase an E-Web heavy repeating blaster. The head/cockpit seats two minifigures and has room for one more guest. An information plaque completes this awe-inspiring exhibit.
An Exhilarating Gift for the Adept Builder
Comprising 6785 pieces, this collectible LEGO Star Wars set is ideal for advanced builders who adore a challenge. It makes a splendid birthday or holiday present for yourself, any Star Wars aficionados, or LEGO hobbyists keen on engaging in a mindful and creative DIY project. The AT-AT set comes with easy-to-understand instructions to guide you through each step of the complex build, ensuring that even if you're new to LEGO Star Wars, you can embrace the entire process and construct the model with confidence.
A Testament to LEGO's Commitment to Quality
The AT-AT (75313) is yet another brilliant example of LEGO's dedication towards meeting stringent industry standards. The robust builds achieved through compatibility and straightforward connections are vital factors behind every successful and satisfying LEGO experience. Subjected to rigorous global safety standards, the bricks and pieces have undergone extensive testing to fulfill the expectations of discerning hobbyists worldwide.
Embark on an unforgettable journey with this remarkable addition to your collection, bringing together two beloved realms: Star Wars and LEGO. The AT-AT (75313) Ultimate Collector Series model promises endless hours of excitement, challenge, and undeniable satisfaction for builders and fans alike.
Product Specs
Product Specs
Product Name:
AT-AT
Pieces
6785
RRP
£734.99 / $849.99 / 849.99€
Release Year
2021
Theme
Star Wars
Instructions
Lego AT-AT Instructions