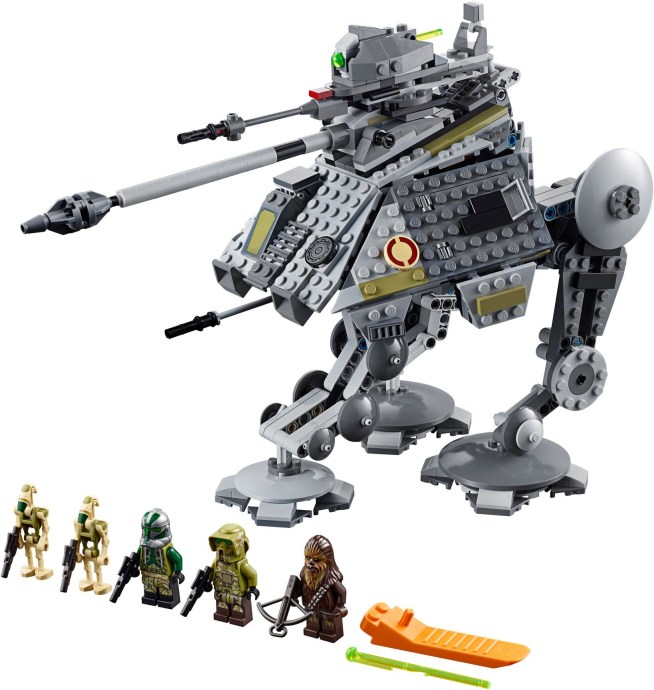 Introducing the AT-AP Walker LEGO Set: A Must-Have for Star Wars Fans
Every LEGO enthusiast who is also a fan of the Star Wars franchise knows that they need to have the most iconic vehicles in their collection. The 75234 AT-AP Walker set, released in 2019, is one such model that should not be missed. This imposing LEGO Star Wars set, designed by Niels M. Frederiksen, is perfect for recreating epic battles from Episode III – Revenge of the Sith on planet Kashyyyk.
What's Inside the Box?
The AT-AP Walker LEGO set consists of 689 pieces and features detailed construction that provides both play and display opportunities. With a recommended retail price (RRP) of £64.99 / $59.99 / 68.23€, you will find that the cost per piece works out to be 9.4p / 8.7c / 9.9c. Aimed at ages nine and older, this set has dimensions of 37.8 x 35.4 x 7.1 cm (14.9 x 13.9 x 2.8 in) and weighs in at just under a kilogram (0.98Kg or 2.16 lb).
Engaging Features for Maximum Playability
The AT-AP Walker itself includes articulated legs capable of moving along with a retractable third leg for stability during playtime battles. The top and sides of the walker open up to unveil a meticulously designed two-minifigure cockpit, allowing users to recreate an authentic Star Wars experience with their favorite characters.
A rotating and elevating top turret offers a seat for one minifigure and incorporates a spring-loaded shooter for exhilarating battling action. For added enjoyment, you can pit the AT-AP Walker against the 75233 Droid Gunship for an intensified Kashyyyk showdown.
Iconic Minifigures for an Ultimate Star Wars Collection
No LEGO Star Wars set is complete without its characters. The AT-AP Walker Set includes three popular LEGO Star Wars minifigures: Chewbacca, Clone Commander Gree, and a Kashyyyk Clone Trooper. Alongside these recognizable heroes, the set also features two Kashyyyk Battle Droid LEGO figures with new-for-January-2019 head decoration and torso color.
The five included minifigures in this set come equipped with their respective weapons. Chewbacca wields his iconic bowcaster, while the other characters are armed with four blasters.
A Great Gift Idea for Young Star Wars Team Builders
The AT-AP Walker LEGO set makes an excellent birthday or holiday gift for Star Wars fans young and old. Its impressive design and action features provide hours of fun and creativity in imagining the battles of Kashyyyk. Plus, paired with other Star Wars sets, it can extend your intergalactic adventures even further!
In conclusion, the 75234 AT-AP Walker LEGO Set is an essential addition to any Star Wars-themed collection. Its combination of detailed design, playability features, and iconic minifigures make it a standout choice for both kids and adult collectors who appreciate the legendary saga of the galaxy far, far away.