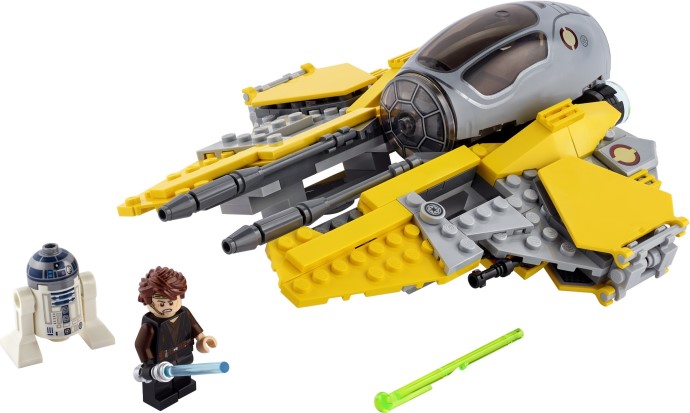 Anakin's Jedi Interceptor: An Exciting LEGO Star Wars Set
A must-have for all LEGO and Star Wars fans out there, the Anakin's Jedi Interceptor (75281) set is an extraordinary addition to your collection! Step into the shoes of Anakin Skywalker as you experience epic battles and thrilling adventures by recreating the iconic vehicle from the Star Wars: Revenge of the Sith and Star Wars: The Clone Wars. This LEGO brick-built model promises endless fun with its stunning features and intricate design.
Unleash Your Imagination with this Feature-Packed LEGO Set
Young Jedis can immerse themselves in creative play with numerous features to inspire their imagination. The set's opening LEGO minifigure cockpit, spring-loaded shooters, foldable wing flaps for R2-D2, and clips for spare ammo and Anakin's Lightsaber make it all the more exciting and action-packed. Additionally, the construction set includes an Anakin Skywalker LEGO minifigure and an R2-D2 LEGO droid figure to role-play scenes from the movies. So grab your friends, put on your Jedi robes, and get ready to embark on incredible adventures!
Anakin's Jedi Interceptor – Perfect for Both Solo Play or Group Fun!
With 248 pieces included in this set, kids aged 7+ can experience hours of entertainment while assembling Anakin's Jedi Interceptor. Whether they prefer to play alone or collaborate with friends, this fun building toy combines brilliantly with other LEGO Star Wars sets for more galactic action-adventures. It makes a unique and captivating birthday gift, holiday present, or surprise for youngsters looking to dive into the enthralling universe of Star Wars.
New Design Inspired by the Movies
Launched in August 2020, this LEGO Star Wars building toy features a new design identical to the iconic vehicle from Star Wars: Revenge of the Sith and Star Wars: The Clone Wars. Anakin's Jedi Interceptor measures 2.5" high, 6.5" long, and 7.5" wide, making it an eye-catching collectible in your LEGO Star Wars universe. Moreover, for an even more immersive experience, fans can pilot the vehicle in the LEGO Star Wars: The Skywalker Saga video game.
Step-by-Step Instructions and Quality Assurance
Fear not if your youngster is new to LEGO sets! This amazing Star Wars construction toy playset comes with easy-to-follow illustrated instructions to ensure a confident and enjoyable building experience. Furthermore, you won't require any batteries or external power sources as this set runs on children's imagination and creativity.
As for quality control and safety, each LEGO brick meets the highest industry standards to ensure ease of connection and disconnection. The bricks and pieces have gone through rigorous testing methods to make sure they can withstand force without being damaged or harming anyone!
Embark on Your Very Own LEGO Star Wars Adventure Today!
Bring home Anakin's Jedi Interceptor (75281) LEGO set today and give yourself or your child an unforgettable journey into the enigmatic world of Star Wars. With its captivating design and engaging interactive features, this set will surely unleash your imagination while enjoying endless hours of exciting playtime!