Since there has been some interest in sharing and discussing plans for surviving the zombie apocalypse, I thought I'd give everyone a place to do just that. If you've got ideas on how you're going to handle the walking dead, then lay out your plans in the comments area. Others can read through and post feedback.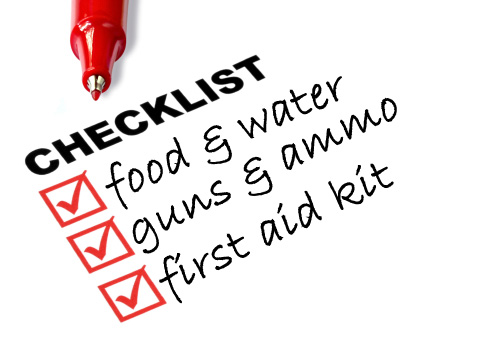 When laying out your plans, try to be thorough. Remember, you're not going to survive if all you have is a mountain of guns and ammo with nothing to eat or drink.
Also, give some thought as to whether you're going to bug out somewhere, or turtle up and stay in one place. I think either way could be viable, but there are a lot of variables to consider for both.
A few quick ground rules:
Not that I think this will be a problem, but keep it civil – no name calling or fight picking.
Keep feedback constructive. Don't just say "Your plan sucks", point out that fighting a horde of zombies with a chainsaw while wearing only underwear might not be a good long-term survival strategy, and then make suggestion on what they could change.
Do not discuss or encourage illegal activities. That means don't talk about looting the police department, stealing food from the grocery story, assaulting people, or anything else that is against the law.
Have fun!
Update
I'm going to close the discussion on this page.