It's Thursday, which means it's time to check out another LEGO Zombie Creation. This week we have "The Wall(ker)" by Damien Cansse. I feature builds for all sorts of reasons: epic scale, excellent photography, gripping storytelling, evocative, imagery… I could go on and on. This, however, might be the first time I've highlighted one simply because of imaginative part usage, but dammit, this one deserves it. Don't believe me? Check it out for yourself: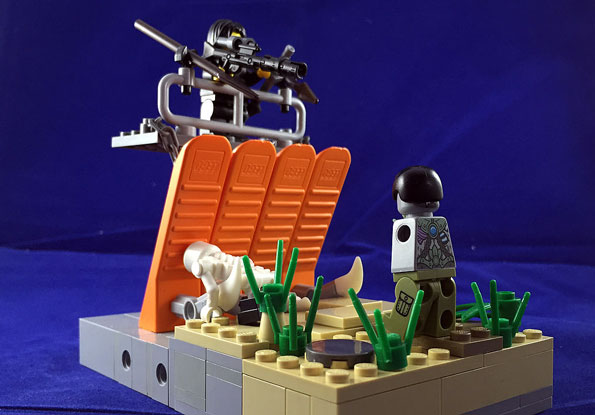 What's Going On
It appears that this creation is set quite a while after the zombie apocalypse has started, as evidenced by both the in-depth defenses setup by the survivors, and the fact that there is a fully-skeletalized zombie at the base of the wall. The zombie that is approaching is also in pretty rough shape, indicating that the at least some of the zombies that are out there have been through a lot.
On the top of the wall (more on that wall later) is a defender with a very large gun that also appears to be suppressed. To me, this suggests a very well prepared and equipped group inside the walls.
What I Like
Let's get this out of the way: using the brick separators as the wall is a super cool idea. Yeah, it's a little weird that the wall is bright orange, but maybe that's the only paint they had, or orange is the favorite color of whoever is in charge. Yeah, let's go with that.
What I really love about using the separators is that they angle outward, which just looks cool. I also love how they've mounted spikes at the bottom. Nicely done.
What Could Be Improved
One thing that could really make this little build stand out is it it was one a nicer looking base. It wouldn't take a lot, and I think it would really make this creation stand out.