It's Thursday, and that means it's time for our LEGO Zombie Creation of the Week. This time around, we're taking a look at "Roadkill" by Calin. As you can see, it's done up in the style of a movie poster, with lots of great little touches throughout.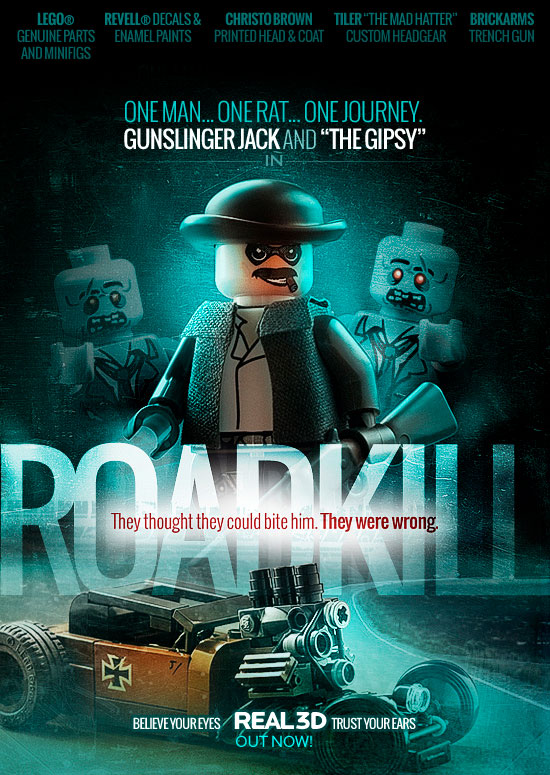 What's Going On?
Obviously, this is an advertisement for the fictional zombie movie Roadkill. Now, we can't tell a lot about the story of the movie from the poster, but we can can certainly understand a few things. And, for everything else, we can make wild, baseless assumptions.
Here we have a single survivor and a hot rod. The first tagline suggests that there is at least one other character, possibly two. We can also assume that there is some sort of betrayal or double-cross, and that's probably what sets in motion the plot of the film.
Also, there are zombies. Probably a lot of them.
What I Like
Taken as a whole, this is a wonderful creation. It really nails the movie poster look, including the teal-tinged color scheme that is so en vogue these days. I also think all the references to various customizers in the poster is a nice little touch.
As a poster, it's quite well done. The texture is wonderful. I love the typography, and the imagery is minimal and evocative. It's exactly what it should be.
What Could Be Improved
Honestly, I can't think of much to criticize here. As a spoofed movie poster, it's incredibly well done.
If I was pressed to change anything, it would be to make the road in the background brick-built to keep it consistent with the rest of the build. I don't feel terribly strongly about that though; it feels like a a nit pick, and I've said before that I like seeing LEGO in the read world.