This week's featured zombie creation is called "La Revanche du Bison" by Bong18Studio. Google Translate tells me this is French for Bison's Revenge, which is a pretty damn cool title if you ask me. The creation is presented without any commentary, so I can only guess as to the meaning. But don't you work, guess I will. Before I do that, however, check it out: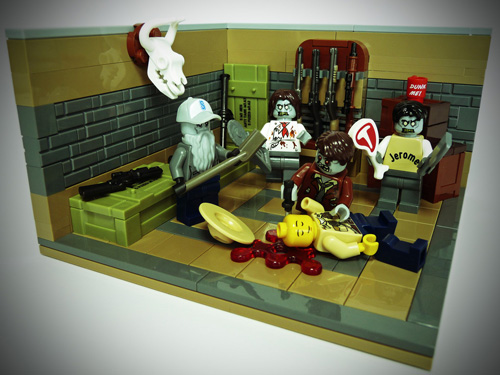 So What's Going On?
Are you ready for my wild ass guess? Well I sure hope so, because here it comes. I say this creation is set in the American west, in a survival bunker built on what used to be sacred ground. The inhabitants of the bunker thought they was safe from anything on the inside, not realizing that the bunker was haunted. One by one the survivors were possessed, until eventually only one remained. The possessed survivors – now little more than zombies  – attacked with whatever weapons they could find handy, mutilating the survivor. All the while, the skull of a bison looks on with approval.
Not a bad theory, right? Naturally, I have no idea if this is what he intended, but I'm going to roll with it.
What's Up with the Zombies?
Again, these aren't your typical zombies, as evidenced by the fact that they're all using tools. They're also all surrounding the victim, which to me suggests they were taking turns attacking him.
What I Like
First of all, that buffalo skull is awesome. If anyone knows where I can get one, let me know in the comments.
Beyond that, this is a really well crafted scene. I really like the color scheme used here. It looks very institutional, like something built in the 1920s or 1930s, which is really cool. The gun cabinet is an extremely nice little design in its own right.
What Could be Improved
I honestly can't think of much to make this scene better, except to give me more of it. I want to see more of this building, mostly to drink in the construction, but I'd also love more context for the story.