Hey everyone, it's time to another LEGO Zombie creation. This time around, we're looking at "Mini Zombie Uprising" by Wigglesworth Clarke, which is a funny little scene that's just packed with all sorts of fun details. Check it out: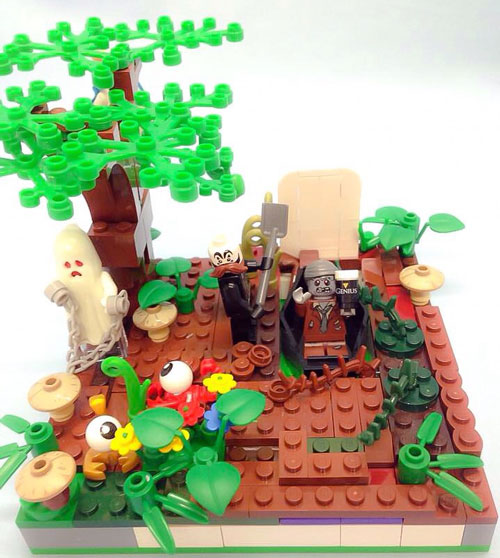 So, yeah, there's a lot going on in this one, which I like every now and then. Let's break it down.
What's Going On in this LEGO Zombie Build?
Since there's no back story on the Flickr page for this creation, I'm going to take a stab at one from the context. This is clearly set in a fantastical world, judging by the ghost, the eyeball scorpions, the crazy clown guy, etc.
The centerpiece of this build is the zombie rising from the grave, having been dug up by… well, whatever the hell the guy with the mustache and face paint is supposed to be (other than terrifying, of course). Now, I think you can interpret this one of two ways. First is that the digger is some sort of witch doctor, who is digging up a recently deceased man to use as part of his zombie slave army. The second – and this is the version I prefer – is that the zombie is the master here, and he is being dug up by his horrifying clown slave as the first step in his evil plans. My evidence to support this? Well, the zombie is nursing a nice pint. Surely his slave brought that along as a bit of refreshment after his time in the grave.
There's also a ghost here. Make of that what you will.
How's the Build?
While there really isn't anything remarkable about the build here, I do like the roots poking out from the open grave, and the 1×1 round plates used as bits of dirt. That's nicely done.
On the other hand, I wish the base would have been constructed a little better. The mix of colors detracts from the rest of the build, which is something that's pretty easy to fix.