It's Thursday, which means it's time to check out the latest LEGO zombie creation of the week. This time around, we're looking at "The Tipsy Zombie Costume Shoppe" by LEGO Police Force. What I love about this creation is how unusual it is. Let's see if you can see what I'm talking about: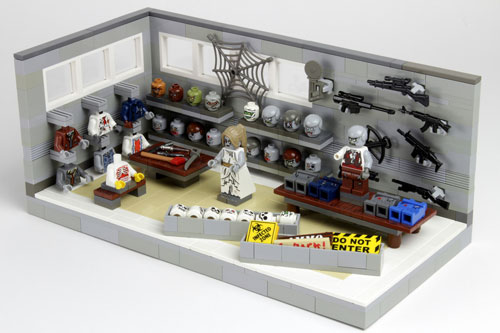 So, Yeah, It's a Zombie Costume Shop
I mean, it's right there in the title after all. I'm surprised you guys had to even look at the picture.
All kidding aside, I like how this creation fits so easily into our world where zombies aren't real, but are a very big part of our popular culture. People dress up as zombies all the time, and not just for Halloween. I've personally been to a number of zombie walks where people were raising money for food banks. A shop like this is, if not realistic, at least plausible. Once in a while, I like things that are a bit less fantastic, and this scratches that itch.
Breaking Down the Zombie Costume Shop
There are a ton of great ideas in this build; let's take a look at some of them. First of all, I love the simple builds for the clothes hangers. This is the sort of thing that fades into the background against all the other, more eye catching details.
Next up, just check out all those zombie heads. Some of them are official LEGO® parts, others come from customers. Regardless, I love all the variety on display here, especially as some of them have hair pieces, while others are left bare.
Finally, I really dig all the accessories available here. We get signs, guns, and other weapons. Pretty much everything you'd need to make your own little zombie movie. You know, if you were into that sort of thing.
Room for Improvement
One big area that I'd love to see changed in this build is for all the guns on the wall to be modified in one, very small way. I want to see orange tips added to all of them.