There's a lot of zombie stuff out there, and most of it is crap. People like to jump on bandwagons and produce quick tie-ins rather than investing love and effort into their creations. Luckily for you, I'm here to help separate the wheat from the chaff. Check back every Thursday, when I'm going to share the coolest zombie-related creation I can find out there on the web.
The Zombie Creation:
This week's LEGO Zombie creation, "Zombie Wedding Car" by norm.fm, caught my attention immediately as I was browsing through builds to feature. Maybe it's the distressed sunburst background, maybe it's the way it looks like the car is about to jump out of the photo; either way, this on is a real head-turner.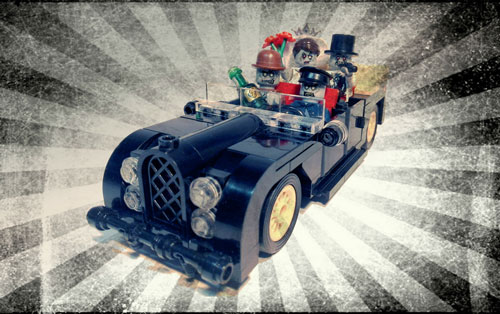 So What's Going On?
This isn't really a scene, like most of the LEGO Zombie Creations we feature here, rather it is more of a stylized build with some minifigs added to give it character. But, man, does it have a lot of character. You can really spin a little story out of what you see here.
I really like the car build for a number of reasons. First, I love old school luxury cars, and I especially love the zombies in formal wear to match the car. The lines of the car are great, especially the hood. The gold rims are also a nice touch.
Let's Talk About the Zombies
The zombies here are certainly not the generic slow shamblers. They're driving a car, drinking alcohol (not the driver; don't drink and drive, kids), and even smoking. These are some party zombies, a form of zombies that are very underrepresented in the media.
Have you seen a great zombie creation out on the web? Are you working on the next great zombie MOC as we speak? Well you had better let us know right away, otherwise we'll never be able to include it here.