I've always had a vague interest in steampunk, if only in that I find the aesthetic to be extremely interesting. It's not something I've ever gotten into, per se, but whenever I see a story or a collection of creations, I always have to check it out. Now, if you were to combine steampunk with another one of my interests, LEGO® for instance, well that would be a very different story. And that's exactly what the guy behind V&A Steamworks – Guy Himber – does in his new book, Steampunk LEGO from No Starch Press. The result? An amazing collection of steampunk creations, beautifully presented.
On the surface, Steampunk LEGO® is just a collection of builds, with no instructions or techniques to be found. Normally, I'd have an issue with this, but the book overcomes this criticism by packing in a meta narrative, and making the steampunk aesthetic an essential part of the book. That makes the book much more of an experience than simply a collection of cool stuff.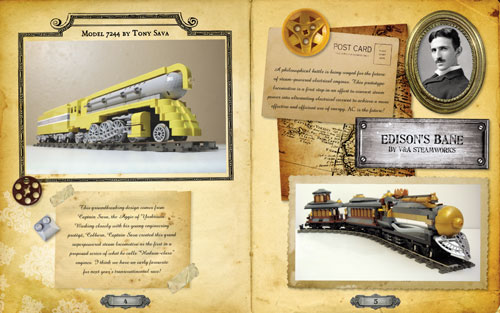 I mention the book's meta narrative above, so let's dive right into that, shall we? It is written in the form of a research journal by Sir Herbert Jobson and his assistant, Lt. Penfold. The paid travel around the world, collecting photographs and descriptions of all manner of steam-powered wonderment, occasionally offering hilarious comments on the creation in question. I found this particularly entertaining when the pair pointing out the various design flaws inherent in some creations. The idea behind the journal is to report to Queen Victory on the state of technology in the world, often underscoring Britain's vast superiority, but occasionally identifying areas of concern when the empire might potentially be lagging behind.
The book itself is divided into eleven chapters, each focusing on a different sort of steampunk build, from trains to bicycles, automatons to airships. The selections within each of these chapters focuses primarily on military and commerce, as befits the book's meta narrative, although there are a number of examples of more day-to-day creations.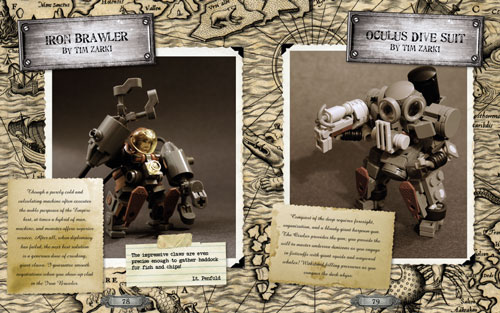 Naturally, the main draw of Steampunk LEGO is the photography, and the book does not disappoint. Every single photo in the book is well shot; you won't find an under lit or out-of-focus print here. Occasionally, the photos really go above and beyond, adding a variety of aging and color effects that I felt really added to the experience. So much so that I wish the book had chosen an overall photographic style and kept it consistent throughout. I understand the design choice to use mostly full color prints, but I often wondered how the reading experience might have been affected had all the images been given a subtle sepia and aging treatment.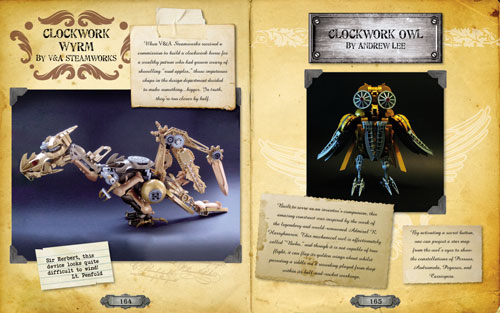 It's really hard to find anything to fault in this book. It gives you exactly what it promises, and does so in an extremely attractive and entertaining fashion. The builds are incredible and inspiring, the photography is solid, and you real get a sense of character from the book's "writers". It also makes for an excellent coffee table book and conversation starter, even if you're not really into the steampunk aesthetic.
Grade: