There's a lot of zombie stuff out there, and most of it is crap. People like to jump on bandwagons and produce quick tie-ins rather than investing love and effort into their creations. Luckily for you, I'm here to help separate the wheat from the chaff. Check back every Thursday, when I'm going to share the coolest zombie-related creation I can find out there on the web.
The Zombie Creation:
This week's LEGO Zombie creation, "Breaking the Undead" by LEGO Police Force, is a sort of unusual one. Rather than showing us a real zombie outbreak, we're getting the behind the scenes of a zombie movie being shot. I always like seeing zombie creations from completely different perspectives.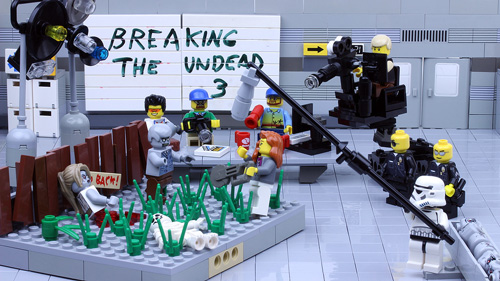 So What's Going On?
Well, I kind of spoiled it in my opening: this is a behind the scenes shot of a zombie movie. This one appeals to me for a number of reasons, but the biggest is that I am absolutely fascinated by TV and film production. Combine that with LEGO and zombies and, well, this one just hits my sweet spot. We've also got a storm trooper operating the boom mic, which makes me laugh.
And here's an interesting little thing: my handwriting is almost exactly the same as whoever write "Breaking the Undead 3", even writing in all caps (course hand, I'm told it's called).
Let's Talk About the Zombies
The zombies are actors here, but what I find interesting is that one of the actors appears to be an amputee. This is something filmmakers use for a variety of reasons, and it's cool to see if show up here.
Have you seen a great zombie creation out on the web? Are you working on the next great zombie MOC as we speak? Well you had better let us know right away, otherwise we'll never be able to include it here.