There's a lot of zombie stuff out there, and most of it is crap. People like to jump on bandwagons and produce quick tie-ins rather than investing love and effort into their creations. Luckily for you, I'm here to help separate the wheat from the chaff. Check back every Thursday, when I'm going to share the coolest zombie-related creation I can find out there on the web.
The Zombie Creation:
This week's LEGO Zombie creation, "Dawn Raid" by Hammerstein NWC, is a contest entry, and a damn fine one at that (the grand prize winner, in point of fact). The contest in question has a "Weird Wars" theme, which calls for everyone to inject science-fiction elements into a World War II themed creation. Hammerstein does this by giving the Nazi's alien technology to reanimate the dead. Make sure you click through the link and view this in full size; it's a heck of a build.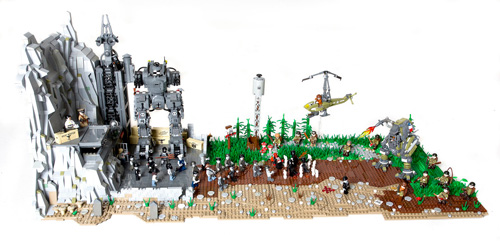 So What's Going On?
In short, a lot. He's written out a whole description of the backstory on Flickr, and I won't repeat it here. The tl;dr version is this: the last remnants of US forces are battling the zombies controlled by the Germans. Also, there are mech, because of course there are.
Let's Talk About the Zombies
The zombies are, sadly, all the remains of the Soviet Union (or maybe it's just Russia in this universe, I'm not sure).  What I love about this is that the army of zombies was created through radioactive fallout; I always love it when radition performs magic, rather than just giving people cancer.
Have you seen a great zombie creation out on the web? Are you working on the next great zombie MOC as we speak? Well you had better let us know right away, otherwise we'll never be able to include it here.