There's a lot of zombie stuff out there, and most of it is crap. People like to jump on bandwagons and produce quick tie-ins rather than investing love and effort into their creations. Luckily for you, I'm here to help separate the wheat from the chaff. Check back every Thursday, when I'm going to share the coolest zombie-related creation I can find out there on the web.
The Zombie Creation:
This week's LEGO Zombie creation, "There Has Got to Be Zombies Here Somewhere" by LEGO Police Force, trades off the usual horror we expect with zombie creations for a healthy dose of humor. And it works really well.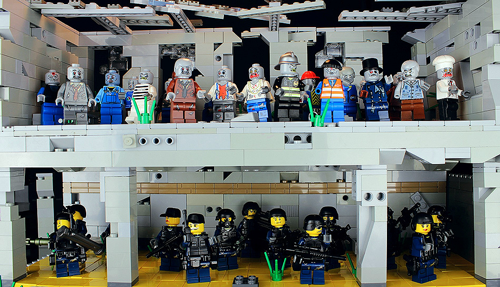 So What's Going On?
The police are on some sort of search and destroy mission against the zombie horde. Deep underground, a well armed group is searching through long-abandoned corridors to destroy the zombies they know are down there… somewhere. The only problem is that that can't seem to find them. They hear the telltale moans and groans, but no one has managed to lay eyes on a zombie yet.
Let's Talk About the Zombies
The zombies here are a nice cross-section of city folk, which is always nice to see. It looks like the zombies range from quite a long time period, or maybe some of them were wearing Halloween costumes. We get formal zombies, professionals zombies, emergency response zombies, and even a zombie in a top hat. I like my undead monsters to have a good sense of fashion, and top hats are certainly fashionable. At least they were a hundred years or so ago.
Have you seen a great zombie creation out on the web? Are you working on the next great zombie MOC as we speak? Well you had better let us know right away, otherwise we'll never be able to include it here.