The LEGO Neighborhood Book is an interesting book, for no other reason than the fact that it exists at all. Let me back up a bit here and start by explaining what this book is: a set of third-party instructions for building modular style buildings. Oh sure, there's some additional content here, such as a pretty great chapter on texture, but the real thrust of the book is custom instructions. If that sounds like a negative, it isn't. I've long wanted to see LEGO® compile yearly books of their instructions, so it's incredible to see custom builder doing this.
Of course, that only really works if the sets and instructions are good, and let me get this out of the way right here: they're fantastic. You get instructions for building multiple modular buildings, as well as ways to customize them in different ways. The book advertises this as four different buildings, but it's actually two: the Corner Drugstore, and a House. What's interesting is that the house instructions are for a plain shell, which can then be customized with four distinct facades. I really like this approach because it shows us exactly how easy it is to take a base design and take it in a variety of interesting directions.
That out of the way, let's take a look at the book itself. It begins with a nice overview of the "Cafe Corner Standard", which it to say the way the series of official modular buildings are laid out. If you've ever built one of these sets – and good lord, you really should – you'll know that there are certain things that make them work together. Sidewalks are all a set width, buildings are linked together at certain points, and floors are separable with the strategic use of tiles and studs. These are the essential rules to the series that make it function as well as it does as a series rather than just different attractively designed buildings with interesting construction techniques.
The second, third,and fourth chapters all detail bringing your idea into reality. From inspiration and planning, to visualization, to the finer detail work that make these creations seem more realistic. This is followed up with a chapter on interiors and furniture. I really enjoyed this chapter not just for it's fantastic content, but also for the way that it addresses something that the official modular line had to learn as it expanded. Cafe Corner, the set that started it all, has often been criticized for a lack of interior details, and many fans have shared their various approaches to correcting this over the years. When Modular Buildings became a series with Green Grocer, the interiors started becoming just as important as the exteriors, giving fans a much deeper building experience. The book perfectly echos the importance of that lesson, and hat's off to it for that.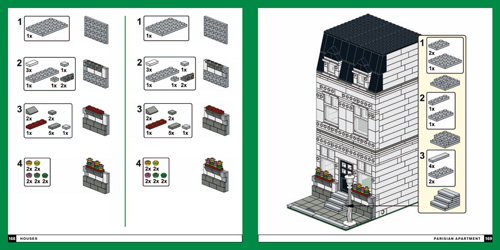 Finally, we dive into the meat of The LEGO Neighborhood Book. Chapter six begins with a showcase of some of the incredible creations built on this standard, and then dovetails into the instructions that are the real selling point here. The instructions are setup almost exactly like LEGO® official instructions: parts lists and images of the model in progress, all presented without any text. This, of course, works very well, further reinforcing my desire to see this done in an official capacity from LEGO®.
Finally, I'd like to address the quality of the book itself. It's incredibly well designed, with a nice thick soft color, glossy pages, and full color printing. It's both a useful book and perfect coffee-table entertainment for fans of LEGO®. If you like the Modular Buildings and have been flirting with the idea of building some of your own, buy this book. You won't regret it.
Grade: