There's a lot of zombie stuff out there, and most of it is crap. People like to jump on bandwagons and produce quick tie-ins rather than investing love and effort into their creations. Luckily for you, I'm here to help separate the wheat from the chaff. Check back every Thursday, when I'm going to share the coolest zombie-related creation I can find out there on the web.
The Zombie Creation:
This week's LEGO Zombie creation, "Timmy's Story" by Greg/Yatkuu, was one of the many excellent entries in the Double-Down Challenge. As will all the contests I've run, it was really tough picking winners, and this entry was definitely in my list of finalists. Check it out: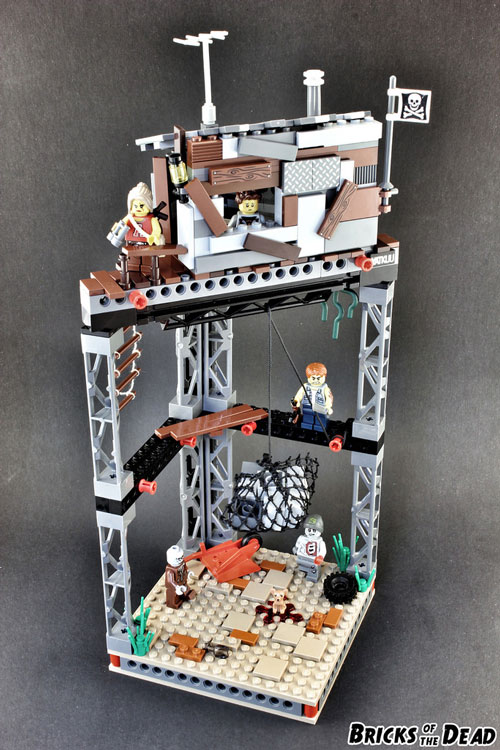 So What's Going On?
Greg lays out quite a dark back story in his write-up, so check that out if you haven't already. We're just going to look at the creation itself, which is excellent in its own right. Here we see Timmy using his dog to lure in some zombies, ready to drop a cargo net full of debris on them. It's not the most elaborate trap in the world, but its simplicity perfectly compliments the setting.
Speaking of the setting, I love the cobbled together look of their hideout. That look is hard to pull off in LEGO, and Greg does it perfectly here.
Let's Talk About the Zombies
Our zombies here function as little more than setup for the trap, which is perfectly fine as far as I'm concerned. I'd love to see a second shot showing the aftermath of the trap, especially if the debris splashes all over the place.
Have you seen a great zombie creation out on the web? Are you working on the next great zombie MOC as we speak? Well you had better let us know right away, otherwise we'll never be able to include it here.