There's a lot of zombie stuff out there, and most of it is crap. People like to jump on bandwagons and produce quick tie-ins rather than investing love and effort into their creations. Luckily for you, I'm here to help separate the wheat from the chaff. Check back every Thursday, when I'm going to share the coolest zombie-related creation I can find out there on the web.
The Zombie Creation:
This week's LEGO Zombie creation, "Plants vs. Zombies: Zombie!" by JP_Creations, is exactly what it sounds like, on of the zombies from the game Plants vs. Zombies. Except that, instead of just a customized minifig, this is a legitimate – and very well done – build. Check it out: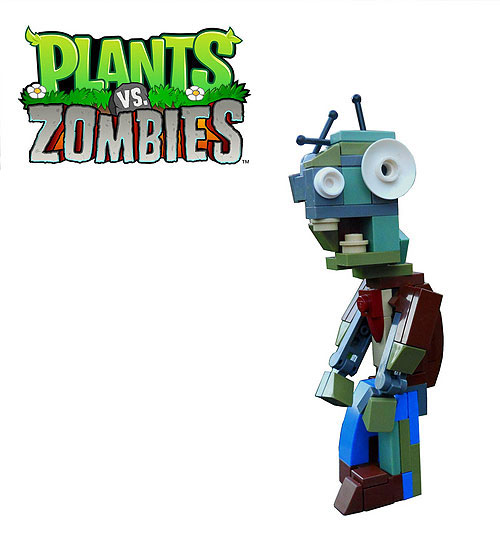 So What's Going On?
Well, there's not really much "going on" in this scene. It's simply a zombie and a logo for the game. What makes this creation impressive is how, even without the logo, the zombie is so immediately recognizable. I remember playing Plants vs. Zombies on an old iPod Touch, and both loving it and finding it incredibly frustrating. Nevertheless, the thing that stuck with me the most about the game was its impressive art style, recreated flawlessly here in LEGO®.
Let's Talk About the Zombies
The zombie in Plants vs. Zombies are a fun mix. You start by fighting of simple shambling corpses, but as the game progresses, the difficulty starts to spike. That spike in difficulty comes no just with an increase in the volume of zombies, but also their various traits and defenses, which are always humorous and ridiculous. It's quite an interesting game.
Have you seen a great zombie creation out on the web? Are you working on the next great zombie MOC as we speak? Well you had better let us know right away, otherwise we'll never be able to include it here.