There's a lot of zombie stuff out there, and most of it is crap. People like to jump on bandwagons and produce quick tie-ins rather than investing love and effort into their creations. Luckily for you, I'm here to help separate the wheat from the chaff. Check back every Thursday, when I'm going to share the coolest zombie-related creation I can find out there on the web.
The Zombie Creation:
This week's LEGO Zombie creation, "LEGO Kino der Toten" by Dave the Disturbing, is another creation based on the popular Call of Duty games' Zombie maps. One of these days, I'm really going to have to play on of them, because people really seem to like them.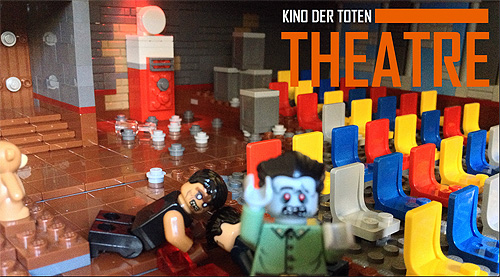 So What's Going On?
Again, I haven't played the game, so I'm going to be making a few assumptions here. Feel free to correct me if I'm totally off base.
Kino der Toten translates roughly to Movie Theater of the Dead, which sounds pretty cool to me. With the setting, I'm immediately reminded of the the finale of Inglorious Basterds, which I won't spoil here, but I will say that you should watch the film if you haven't already.
Sorry, that was a bit of a tangent. Back to the creation.
What I really like about this creation is the framing. It's not a terribly complicated build, but the framing of the shot makes it extremely visually interesting. The dutch angle, the out-of-focus zombie in the foregrond, the hypersaturation of colors. They all combine to make a very interesting shot. I like this because it should people that you can do a lot with a little, so long as you invest some creativity into the scene as well.
Let's Talk About the Zombies
The zombies here look fast to me. I don't know why; perhaps it's that the one in the foreground is out-of-focus and that suggests rapid movement even when I know it's only the effect of a shallow depth-of-field.
Have you seen a great zombie creation out on the web? Are you working on the next great zombie MOC as we speak? Well you had better let us know right away, otherwise we'll never be able to include it here.